I've seen a few people around the blogosphere (is that a thing? it is now!) say that they'd like to try and start reading comics and/or graphic novels, but don't know where to start. I was in the exact same position a few years ago. I thought I'd make a post with a few tips on how to get started if you're brand new to the world of comics.
I have absolutely fallen in love with both mediums and they are my go-to for when I'm in a reading slump. I can also read them super quickly so that's a huge plus. I love comics and graphic novels because they're fast paced, addicting and full of so many interesting characters and settings.
I know comics aren't for everyone. If you have wanted to try them though and felt too intimidated then I'm here to tell you that you honestly have nothing to worry about!
As a disclaimer I'd like to state that I am still a baby to the comic book world, so if there's any misinformation on here I apologise and please feel free to correct me. This will only cover Comics & Graphic Novels because I, shamefully, know nothing about Manga. Also, this is just my opinion and preferences in no way am I trying to say this is "the best way"!
---
What is the difference between a comic and a graphic novel?
The main difference is that comics are usually long running series that are released periodically and center around multiple characters from within the same universe. Graphic novels are usually a standalone story that are more like a book and they are also released in hardbacks. Of course, there are exceptions to both these rules and graphic novels can be part of a series and a lot of comics from Image Comics and Dark Horse are self-contained universes. Honestly though the terms aren't a huge deal and can be interchangeable. If anyone gives you a hard time because you mix them up then just be like:
---
Where can I read or buy comics and graphic novels?
Physical and/or Digital Copies
Digital Copies
If you're outside the US I highly recommend getting your comics from your local comic book store or library. If you don't have access to those then your best bet is to probably use Amazon, Book Depository or Comixology because the subscription based services for print copies can get quite pricey.
---
Where the heck do I even start?
I started reading comics because I heard about Ms Marvel and was so interested in the concept and the diversity that I was like "I need to read this now" and when I was trying to find out how to start this was 100% literally me:
I think the most important thing I've learnt is that you don't have to read everything. I was heavily under the misconstruction that I had to read every single issue in a series and it was so stressful trying to find out when the series started and how to get my hand on back issues. I was so worried that I wouldn't be considered a "Real Fan" if I didn't know every single historic detail of the Marvel universe. I have since, fortunately, learned that it is entirely possible to just jump into the most recent volume and you will still be able to understand what is going on. You are still a fan of comics no matter what the extent of your knowledge is. No one is going to judge you because you haven't read a comic that was published in the 1950s and if they do then they're honestly not even worth your time.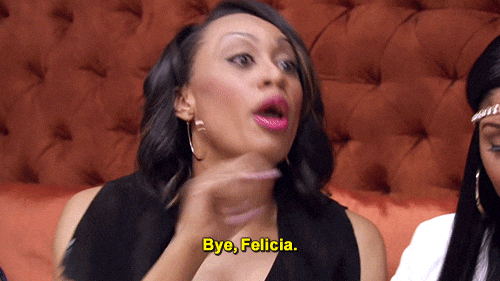 Some handy links:
I highly recommend using the Marvel Wiki and DC Wiki because they are full of information on the universes and characters and all the series and issues that exist. If I was ever confused about something I'd go there and normally have my question answered right away.
If you want to start reading Marvel or DC comics then I suggest picking your favourite character and starting from there.
Some handy links:

Popular DC Ongoing series:
Popular DC One-Shots/Events:
Popular Marvel Ongoing Series:
Popular Marvel One-Shots/Events:

If I left out something you think is popular or important then no offense is meant! I just didn't want to make this post more overwhelming than it probably already is.
Not all comics and graphic novels are about superheroes. Feel free to also choose your favourite genre and start there.
Some handy links:
If you've never picked up a comic or graphic novel before then I suggest starting with graphic novels because you don't need to worry about established universes that have existed for years and are constantly changing. The stories are normally singularly contained and you don't need to know any kind of back stories. It will also help you get used to the formatting if this is your first time reading a graphic based book.
If you have never had any kind of exposure to any of these, don't worry – I've got you covered.
---
My Beginners Recommendations
If you're not a beginner then I still definitely recommend all of these if you haven't read them! All the covers link to Comixology or Book Depository, but you can then search for them on Amazon if you'd prefer. These are just a few of the thousands of comics and graphic novels that exist. I know I did leave out a lot of popular series, but I had my reasons I promise! I tried to make sure these were easy to understand and didn't have too many issues that heavily rely on crossovers to make sense. If you guys want more recommendations (for intermediate readers) or want to know my personal favourites I'll be happy to make another post! 
GRAPHIC NOVELS
Just to totally plug myself I did reviews for Amulet and Camp Midnight here and also one for Through the Woods.
Amulet is one of the best graphic novels I've ever read. It has the perfect balance of action, comedy and emotion.
Camp Midnight features an incredible female friendship and the ending made me bawl my eyes out. So you know … if you're into that kinda stuff then I definitely recommend it.
COMICS
These comics are mostly all trade paperbacks, but there are a couple singular issues too.
Marvel
ALIAS is the basis for the Netflix show Jessica Jones and is intended for mature audiences. Trigger warnings for: abuse and alcohol. Patsy Walker AKA Hellcat is the basis for Trish Walker from Netflix's Jessica Jones, however this comic is suitable for all ages and has none of the dark tone that the show does. It's super light and fun.
Young Avengers, Runaways and Ms Marvel have awesome and diverse representation.
I know I left out quite a lot of popular Marvel comics, but if you're just starting out I think your best option is to go for something that doesn't incorporate too much of Marvel's past. These are all pretty light and fun too (…except ALIAS, but that is a great starting point for people who like the grittier stuff!).
DC
Harley Quinn is my all time favourite comic. Harley is hilarious and when written right (which thankfully Amanda Connor does SO WELL) she is one of the most complex and layered characters in existence.
DC can be very dark and gritty so if you're a beginner I recommend you start with some more light and fun series, this is why I didn't include anything Batman or Superman – there's also so many of these that I don't even know where to start (also because I'm not really a fan of them… Please don't revoke my Comic Fan status)
Image Comics
Not to totally plug myself again but I did a review for The Beauty, Paper Girls and Wytches.
Paper Girls and Saga can be quite bizarre and I wasn't sure whether to include them, but a great starting point nonetheless if you're like me and love odd things!
Lumberjanes is actually a Boom Studios publication and The Beauty is an IDW publication. My bad.
Dark Horse
Zodiac Starforce is like a modern take on Sailor Moon but with Zodiacs instead of planets. It's so fun and cute and there's diversity!
The True Lives of the Fabulous Killjoys is written by Gerard Way who is the vocalist of My Chemical Romance (be still my emo heart) and it's based on their Danger Days album.
---
Singular Issues vs Trade Paperbacks
You've probably heard the term "Singular Issue" and "Trade Paperback" floating around. Trade Paperbacks are a collection of 5-7 single issues that completes one story arc. Trade Paperbacks are released roughly every six months and singular issues are released fortnightly or monthly.
If you're reading a current series then I suggest you get singular issues. This can get a bit pricey, but otherwise you'll be waiting nearly half a year and fall behind. If you don't mind that though the Trade Paperback would be the way to go. If you're reading a series that is completed or catching up on back issues then your best option is definitely a Trade Paperback.
Some handy links:
---
"Girls Can't Read Comics or Graphic Novels"
---
Other Helpful Links
---
Congratulations, you made it to the end!
I really hope this was somewhat useful and informative!
I'd love to hear your thoughts on comics and graphic novels. Do you read them? Have you read any of the ones I've mentioned? Please let me know if you'd like more comic recommendations and posts!