Am I back from my hiatus? Kind of. Things are still pretty messy so I don't want to make too many commitments. I'm already a million reviews behind so I'm trying not to put any pressure on myself. Anyway, I'm hoping to be as active as I can during my Halloween Readathon (which you should all check out because there's a giveaway too!!!). I'm also hoping to get a "Review Dump"-esque post up with some reviews I'm behind on. Most importantly I'VE MISSED YOU ALL SO MUCH ♥♥ Not blogging for an entire month has felt so weird. I just wish I'd gotten back some of my motivation because I'm still struggling a little.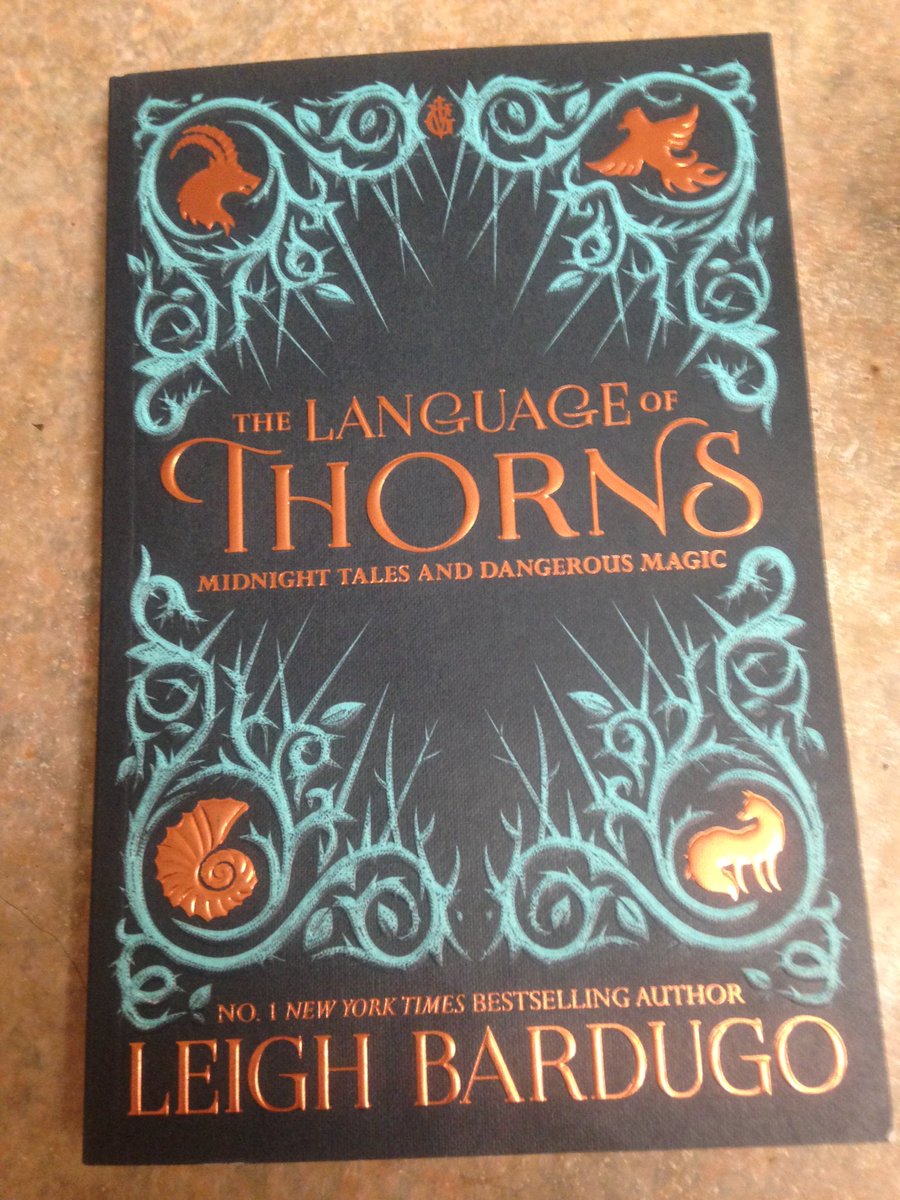 I won a copy of A List of Cages from Ashley @ Inside My Minds from a blog post I did during The Biannual Bibliothon! It was about characters I connect with and I'm kind of proud of it because I did some aesthetics and got a bit 2 real.
I  received a copy of The Language of Thorns from the amazing people at Date A Book and my shitty phone photo does not do justice how beautiful this book is. I just want to stared at it forever.
Also, I grabbed a copy of Return of the Jedi from the used bookstore I sometimes do paranormal investigations at. This is the third book in the Star Wars Illustrated Novels series. Normally, I wouldn't buy the 2nd or 3rd book in a series unless I've read and loved the first. However, I figured I probably wouldn't find it at such a low price again so I grabbed it. I don't have a photo because my phone decided to join my laptop in dying, but more on that later.
So I only read one book this month which I'm totally fine with and actually kinda pleased with because I was planning on reading nothing.
salt. by Nayyirah Waheed || ★★★★★ || Y'all I can't even express how INCREDIBLE this is. It brings up so many important issues especially in regards to POC and intersectional feminism. I honestly felt like a changed person after reading this. Honestly one of the best poetry collections that I've stumbled across. PLEASE READ IT!!!
Firstly, there's been so many world tragedies recently I don't even know where to start. My soul aches for everyone that's been affected by something terrible.
This month has been kind of full on. For me, at least. I'm still trying to work through my mental health issues and things that are going on at home. I'm desperately trying to find a job but not having any luck. Being in a small town sucks.
As I mentioned above my phone decided to die on me so that's been great 🙄 especially considering I have no money to replace it.
The biggest thing that happened this month was that I visited my birth mother and a half sister who I hadn't seen in like 10 years??? I've never really felt any resentment or anything really towards my birth mother. She'd never really been part of my life so I was just super indifferent. I knew this was something I had to do for myself though and I really wanted to see my half sister because the last time I saw her she was about 5 and now she's 20. It was actually really good catching up and after the initial awkwardness everything felt pretty natural. My sister and I are strangely similar in our tastes despite not having grown up together. I also found out that my Nan (my birth mother's mum) has terminal cancer. It's kind of why the trip happened. It's strange how it takes some kind of serious tragedy to bring people together. I haven't really processed how I felt about my Nan either. I've seen her more than I have my birth mother, but not to the point where there's any kind of bond. Still, it's definitely not easy to take in because when I have seen her she was always so up and about and seeing her in a hospital bed after rounds of chemo was a shock. It also brought up a lot of unwanted memories about my other nana who passed away. I also met my Uncle who I hadn't seen since I was like 2 and some cousins that I'd never met and that was really good!! Hopefully, everyone will be better at keeping in contact with each other. So yeah, this month has definitely been a bit of a rollercoaster.
In less seriousness… I DYED MY HAIR GREEN. I wish I had photos to show, but it just refuses to show up on a camera, haha. I used Manic Panic in Green Envy and it showed up way more than I was expecting (considering my hair is such a dark brown it's almost black), but it's also kinda massively faded already? I definitely want to redye it though because I really liked the colour. Also, the footy season is over so now I have a football shaped hole in my heart.
Like always, when things are rough emotionally I turn to music. Here's my September playlist and a couple of my favourites:
Taylor's new song took a really long time to grow on me, but when it did I couldn't stop replaying it. I really hope she has some more natural sounding songs on the album though just because I feel like she's almost compromising her own talent by how produced these first two songs have been.
One of my fave heavy bands Our Last Night did a cover of Look What You Made Me Do and I am LIVING FOR IT !!!!!
British India are one of my all time favourite Australian bands (and bands in general). I've seen them live close to 10 times and it's always been amazing. They also told me that they hoped I'd be at their show once which was pretty rad. I love their lyrics so much, they always write such honest and hard hitting songs. Their new album came out this month and this is my favourite track off of it.
I would love to hear your thoughts on anything I mentioned.
What was your favourite read or thing from last month?
I hope you had a great September and an even better (and spooky) October!!
Find me: Twitter – Goodreads – society6 – RedBubble
Support Me: Kofi – Book Depistory affiliate link