I wasn't tagged in this (because why would I wanna post a tag that I was actually tagged to do!! It's not like I have a giant backlist or anything!!), but I found this tag on Tilly @ Tilly And Her Books channel and I immediately had to do it! Tattoos and books are two of my favourite things so seeing them combined I was like YESSS. The original tag was created by thebookbrood and you can see their original video here.
How many Tattoos do you have?
Currently I only have 2 small-ish tattoos, but I want so many more it's insane. Tattoos are expensive though and when you don't have much of an income, unfortunately food and bills have to come first which sucks.
Anyway, I have a music note on my left wrist and birds on my right arm. The top ones are after they were first done which is why there's redness.
Do you have any book related tattoos?
Unfortunately not, but I really want to get one! The Deathly Hallows symbol and the leyline symbol from The Raven Cycle are on my list!
How old were you when you first got into reading/First Tattoo?
Is it weird to say that I feel like I've been reading my entire life? Clearly I wasn't always reading on my own, but my nana always used to read to me and tell me stories. I started reading on my own around 4 and it's just grown since then. I did stop reading for about 3 years, but now that I'm back I'm wondering what the hell I was thinking haha.
I got my first tattoo when I was 21! It was like a birthday present to myself.
What is the longest book you have read/Longest sitting for a tattoo?

776 Pages
Long books intimidate me like whoa, so it's not really a surprise that Order of the Phoenix is the longest. It takes a lot for me to want to read a book over 400 pages.
I haven't really had to sit too long for a tattoo either. Both are small and only took about 60-90 minutes.
Current favorite book & tattoo?
Current fave books: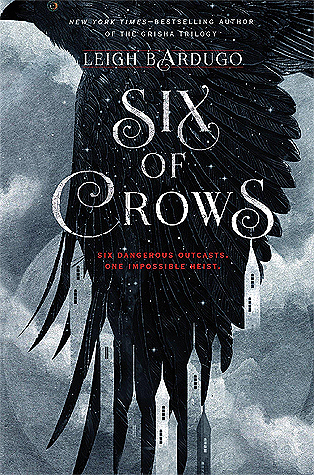 Both of these are amazing and I can't stop thinking about them. I love Aaron and Thomas so much and the Six of Crows kids are my children who I birthed and raised.
Favourite tattoo: 
My favourite tattoo is my music note. It's extremely important and personal to me. Music is the one constant in my life. It's helped me through so many dark places. I've spoken about my mental illnesses on here before, but I'm also struggling with self-harm. I got the tattoo to remind me that when I feel like hurting myself to go listen to music instead so it can help me out of that dark head space.
Favorite style of tattoo & genre of book?
I love all styles of tattoos. Despite having two small black tattoos, I think colourful ones are amazing and I definitely want to try and get one soon. Sleeves look awesome too. I really like the style of tattoo that Hannah Snowden does too even though I don't know if I'd get one for myself. Same goes for portraits. Overall though, I think I really love black tattoos the best.
My favourite genre is horror/thrillers, which I've definitely not been reading enough of. I've been so caught up with hyped fantasy releases since I've started blogging that horror/thriller has been put on the back burner. I'm definitely hoping to change that this year though.
Aren't you worried about how those will look when you're 60?
LMAO NOPE!!!!!! My next tattoo I'm planning on is a Pierce The Veil one and people are like "but what if you don't like them in x number of years" and it's like 1) I'm almost 30 so I'm pretty sure that won't change and 2) even if it did at one point of my life they were so important to me that I will never forget that or be 'embarrassed' by it later on. The arguments against tattoos are all so ridiculous. You don't have to like them, but you don't have to be an ass about it either!!
Why do you always have your nose in a book/What are you sick of reading?
Sometimes reality can really, really suck. Being able to escape into a book is such a great feeling. Reading has taught me so much too and I love learning.
I'm so over abuse dressed up as romance. I hate that trope with the passion of a thousand fiery suns. Get it away from me.
How has tattooing & booktube/clubs/blogging affected you?
I don't know if tattooing has really affected me? I either get people saying they love my tattoos (WHICH IS THE BEST THING EVER) or the standard "why would you ever want that??" ect. questions. I've never understood why people are so worried about what other's choose to do to their own bodies?
In regards to blogging, I say this all the time but it's just helped me feel like I'm a part of something. Everyone's so wonderful and I love being here.
Any advice to newbies of booktube/blogging/tattoos
Tattoos:
Contrary to popular belief, your tattoo choice doesn't need to have some grand meaning, but just think about it for a while just to make sure it's what you want!
I've had people judge my tattoos because they're small and be like "that's not a real tattoo". Pretty sure it is, mate. If you want to get a small tattoo. Get one.
People with tattoos can be just as judge-y as people without. If you want one of the typical designs of a feather, hourglass, anchor, infinity symbol GET IT!! Screw what other people think.
MAKE SURE YOU DO YOUR RESEARCH ABOUT THE SHOP YOU GO TO!!! Do not let someone give you a tattoo without the right qualifications.
The pain isn't that bad. It kinda feels like cat scratches and honestly, the itching afterwards is worse. If you get a tattoo don't scratch it. I used to hit mine gently and it helped.
Make sure you do the correct aftercare to avoid infection.
They become addicting. You think you'll only want one, but then nope.
Blogging:
I've talked about this a lot so I'll try and keep it short and simple!
INTERACT! INTERACT! INTERACT!
Be prepared for how time consuming it can be.
Take the time to pick out a nice theme.
Post whatever types of posts you want, just put some meaning and personality into them!!
Not specifically tagging anyone, but if you have tattoos then consider yourself tagged!!
If you guys have any tattoos TELL ME ABOUT THEM!
If you don't have a tattoo but want one TELL ME WHAT YOU WANT!
I hope you're all having a fantastic day.

Find me: Twitter – Goodreads – society6 – RedBubble