I'm pretty sure EVERYONE has heard of Hamilton by now, even if you're not exactly sure what it is. If you haven't, it's okay, I'm going to hopefully get you up to date. I adore this musical to pieces and hopefully I can help you fall in love with it too. If you've already had your life taken over by this musical then click here for my review on Hamilton: The Revolution by Lin Manuel Miranda and Jeremy McCarter. 

Hamilton is a Broadway Musical that was created by the genius that is Lin-Manuel Miranda. It's about the Founding Father's of America, but specifically focuses on the life (history spoiler alert) and death of Alexander Hamilton. It's more than just a historical account of the 1st United States Secretary of the Treasury though. It's about fighting for what you believe in, love, friendship, betrayal and not throwing away your shot. There's so many layers to this musical and it'll have you laughing one minute and in tears the next.
★ Even if you're not normally a fan of musicals I'm almost certain that Hamilton can win you over. I'm not normally a musicals person. My main reason for staying away from Musicals (unless you count the genius that is High School Musical 😎) is because listening to the recording just doesn't seem like it could ever live up to seeing the production live. You normally miss parts of the story or you don't get the full effect. Hamilton is here to change that though because the ENTIRE musical is recorded. There aren't any spoken parts as such. The whole thing is there in the songs and trust me they are MORE THAN ENOUGH. Of course, seeing it live would obviously be the most phenomenal thing ever and I cry daily that I'll probably never get to see it.
★ There's an extremely diverse cast. There's something beautiful about POC playing such prominent historical figures. There's a line in the musical that says; "Immigrants, we get the job done" and just YES. There's also talk about abolishing slavery and women get the credit they deserve. Lin also questions whether or not there was a romantic relationship between Hamilton and John Laurens. So yeah. Diversity all 'round!!
★ YOU'LL LEARN SOMETHING. I was never great at school, but I love learning to pieces. I want to learn as much as I can. Going to school in Australia in the 90's-00's we literally learnt nothing about the world except for specific going ons in our country. I know NOTHING about America's history except for what I've seen in the media. I was a bit lost at first when I listened to this. I didn't know anyone except George Washington and Thomas Jefferson, but that encouraged me to do my own research and by the second and third lesson I was understanding and learning SO much.
★ It has such a fun, unique and catchy sound. Hamilton is an infusion of hip-hop, pop and even a bit of rock mixed in with your usual Broadway sound. I am not really a hip-hop listener, but there's just something so alluring about the songs in Hamilton that I couldn't resist them. If you don't find yourself trying to rap Renée Elise Goldsberry verses in "Satisifed" or Daveed Digg's in "Guns and Ships" then I don't even know.
★ The storytelling. Lin used Ron Chernow's biography on Hamilton as his main inspiration for the musical. He even had Chernow on board to try and make things as historically accurate as possible of course he took some creativite lialibilities, but they definitely paid off. I guarantee that you'll shed tears at least once. Either during Leslie Odom, Jr.'s performance of "Wait For It" or when Phillipa Soo and Lin sing Stay Alive (Reprise) and It's Quiet Uptown. Personally, my life is ruined by the relationship between Alexander Hamilton and Angelica Schueyler. I honestly can't see a comma anymore without getting emotional.
★ And these, babes
★ Also this,
Enough Said.

If you're still not sure if you want to listen to the entirety of Hamilton here are some songs for you to check out! These are just some of my personal favourites and I included a performance from the Tony Award's so you can see how hard the cast work and how passionate they are.
You're convinced now, right? Good, because the entire recording is on Spotify
Off you go!!!
Genre: Non Fiction
Date Published: October 4 2016
Publisher: Hachette Australia
Pages: 288
Buy: Amazon–Book Depository
Australia: Hachette
Follow Lin-Manuel Miranda on Twitter – Follow Jeremy McCarter on Twitter

Winner of the 2016 Pulitzer Prize for Drama and Eleven Tony Awards, including Best Musical

Lin-Manuel Miranda's groundbreaking musical Hamilton is as revolutionary as its subject, the poor kid from the Caribbean who fought the British, defended the Constitution, and helped to found the United States. Fusing hip-hop, pop, R&B, and the best traditions of theater, this once-in-a-generation show broadens the sound of Broadway, reveals the storytelling power of rap, and claims our country's origins for a diverse new generation.

HAMILTON: THE REVOLUTION gives readers an unprecedented view of both revolutions, from the only two writers able to provide it. Miranda, along with Jeremy McCarter, a cultural critic and theater artist who was involved in the project from its earliest stages–"since before this was even a show," according to Miranda–traces its development from an improbable perfor­mance at the White House to its landmark opening night on Broadway six years later. In addition, Miranda has written more than 200 funny, revealing footnotes for his award-winning libretto, the full text of which is published here.

Their account features photos by the renowned Frank Ockenfels and veteran Broadway photographer, Joan Marcus; exclusive looks at notebooks and emails; interviews with Questlove, Stephen Sond­heim, leading political commentators, and more than 50 people involved with the production; and multiple appearances by Presi­dent Obama himself. The book does more than tell the surprising story of how a Broadway musical became a national phenomenon: It demonstrates that America has always been renewed by the brash upstarts and brilliant outsiders, the men and women who don't throw away their shot.
A million thanks to Hachette Australia for providing me with a copy of this book in exchange for an honest review.
I'm not even sure to begin with how wonderful Hamilton: The Revolution is. This isn't going to be a review, it's just going to be a complete and utter gush fest. Everything about this book is beautiful from the design to the actual words on the pages. If you're a Hamilton fan then you NEED this in your life.
This made me realise just how much work goes into creating a musical. I honestly knew nothing about them until Hamilton. I realised that they can't have been easy, but I had no idea. Reading Lin's essays you can tell just how much of himself he put into making this show and how much he cares about music and art. Reading about his creative process is so incredibly fascinating. Music is so important to me, but I've never really been into the rap or hip-hop scene and hearing the way Lin talk about it made me have a new found appreciation for it. I walked away from this book feeling so incredibly inspired.
"At that first preview, it was disorienting to watch more than 200 strangers stream into the theater, hailing from God-knows-where. They didn't know they were obstructing what had very recently been Andy's path to the stage, or occupying the spot where Tommy liked to preside, arms crossed, a couple of fingers to his lips. But as Alexander Hamilton kept trying to tell us, even the best-ordered societies need infusions of new blood to thrive. Keep it in mind the next time you go to the theater: Some gifted men and women have built a community in that room, and the immigrant is you."
I highly recommend listening to each song as you read it's annotations because it'll make the experience so phenomenal. I took my time with this book and I feel like it's the best way to read it so you can truly absorb everything. Lin's annotations range from hilarious to heartbreaking. I cried several times during this because of the music and because of bits and pieces of personal information that Lin revealed about the actors and production team. There's even references to Harry Potter and Ja Rule and Ashanti! It made me appreciate the soundtrack in a whole new light. 
I can't not talk about the design either. This is honestly one of the most beautiful books I've ever seen. It looks like it could have been a book that was created in the 1700s. There's stunning photography throughout as well as scans of a few letters that Alexander Hamilton actually wrote and Lin's personal notes.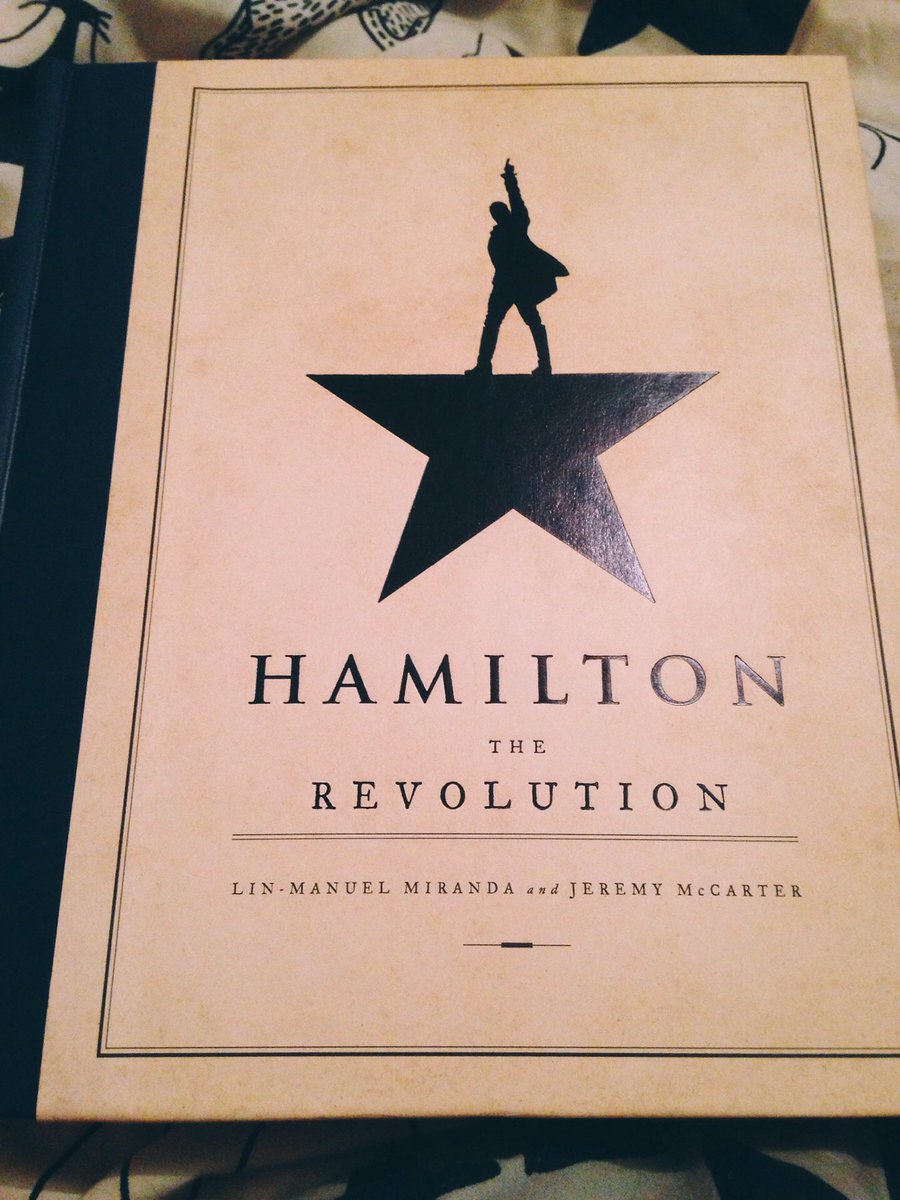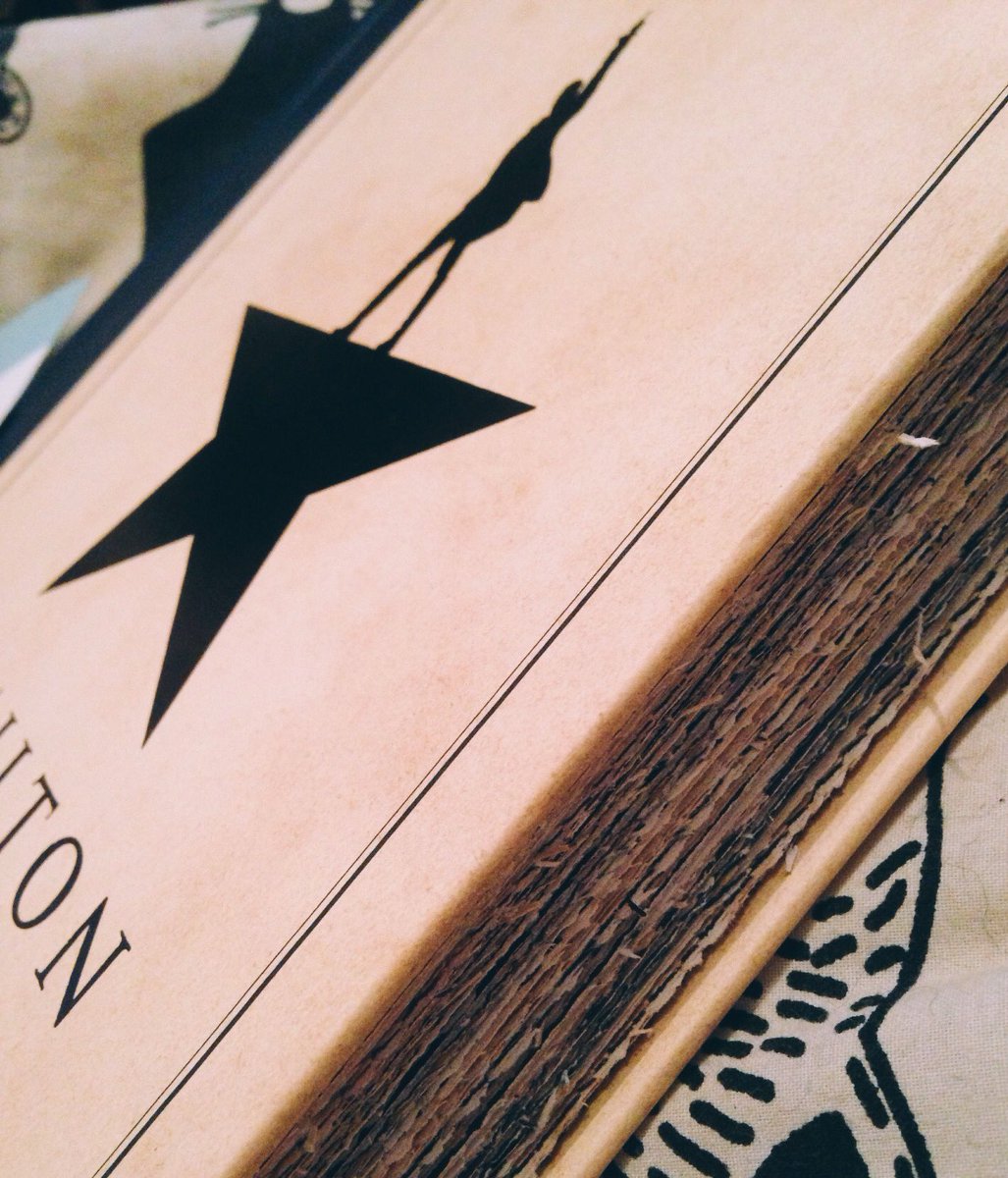 Christmas is coming up so what better time to purchase this as a gift for yourself! Or if you know someone who loves Hamilton then I guarantee they would love you forever if you bought them this.
"Dying is easy, young man. Living is harder."
★★★★★
Are you a Hamilton fan?
Have you read the Hamiltome? What did you think of it? I'd love to hear your thoughts!
I hope you're all having a fantastic day xx