No. I'm not talking about that 'F' word – although, if you met me in real life you'd probably be appalled by how often it comes out of my mouth. We're talking about that other 'F' word.
Followers.
At the end of the day, it's important not to stress over your stats. It can definitely take a lot of fun out of blogging. That said, it's always nice seeing a notification of a new follower. It really helps you feel validated and aren't just yelling aimlessly into the void. It's so great knowing that people out there are interested in you and what you have to say.
I'm not rolling in followers or any kind of expert, but I have way more than I EVER expected. I thought I'd give some tips how to help gain some if you're a new-ish blogger or feeling like no one is noticing you.
Follow 4 Follow comments
I understand when you're new that this might seem like the most logical and easiest way to build some followers up, but you'll find most people find it really annoying. It makes it seem like you're not interested in the person behind the blog and just want more numbers on your own blog. It's probably the easiest way to NOT gain followers.
Shameless Link Dropping
Don't just leave a link to your post and add nothing else. Again, this just looks like you care about your own following count.
Doing these things kinda makes you look like this: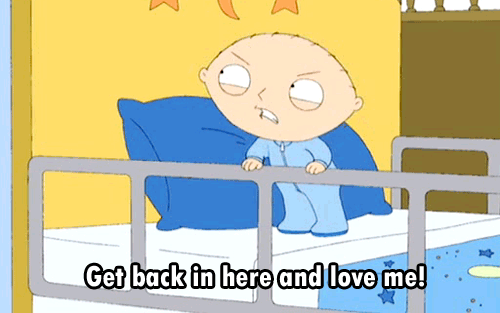 You can't just magically expect to gain followers. It takes a lot of work trying to build up a network and keep it. You can't just take. You need to give.
Participate in Weekly Memes
These are one of, if not the best thing a new blogger or someone who's looking to gain followers can do. There's so many to choose from too! Here are some of the more popular ones I've seen:
As I said above there are a ton of memes so here are some directories that list a bunch:
Go through the Link Ups and Blog Hop!
Most Weekly Memes will have a "sign up" part were you can leave a link to your own post. I highly encourage you to go through all the other links. When I first started blogging this was ALL I did. It helps you find some great blogs and someone could find yours. 
Share your Posts
A bit contradict-y to my "What Not to Do" but if someone asks you to leave a link to your own post DO IT! Just makes sure to actually leave a comment with some substance. Read the persons blog and don't just drop your link and leave.
Dat Promo
A lot of Goodreads groups allow you to promo your blog. Just make to sure read all the rules because each group has different ones. Of course, make sure to be respectful.
Here's a couple that allow you to post about your blog:
Unfortunately most GR groups are based around YA Books so if you don't blog about YA this might not be the best option for you!
Go on Twitter and use the hashtags #bookbloggers and #bookworms to advertise your blog. DON'T SPAM though! That is so important. NO ONE likes spam. Also, use this hashtag to help you blog hop and find other bloggers.
Tags
This is more of a WordPress only thing, but make sure to include tags in your post because this is what people who aren't following your blog could be using to try and find new blogs. Use tags like books, book reviews, book blogger, young adult ect.
If you want to find blogs by using tags then go to your Reader. Look for this, hit 'Add' and input some tags you want to look at.
INTERACT!!!!
Honestly it all comes down to interaction. Take the time to read people's posts and leave a thoughtful comment. It'll help get your name out there and build up your reputation. Honestly, the only way your blog will really be known is if you interact with other bloggers. Commenting on people's posts can be super scary, I am TERRIFIED of interacting with people even online so I get your hesitation. However, everyone I've met has been super wonderful. Even when I was starting out and had really cringey posts, people didn't care. Just be considerate and genuine and you'll be fine!
Thank you to Ashley @ Inside My Minds for inspiring me to come up with this post. 
What's your experience with gaining followers? Do you have any tips on what or what not to do?
Like always, I'd love to hear your thoughts!
I hope you're all having a fantastic day xx