I can't believe it's time for the first wrap up of the New Year already!
This month was extremely hit and miss for me which I go into more detail below.
The only notable thing I have to report this month is that I officially became Vegetarian 🎉🎉
I've felt very exhausted this month. I've been struggling a lot with my mental illnesses and the current state of the entire world. I constantly feel like I'm not doing enough. Then I feel guilty because this isn't about me. What right do I have to be sad when others are fearing for their lives? It's a vicious kind of cycle. I've needed to take several breaks and then I feel guilty again because being able to "switch off" is extremely privileged. I'm just so overwhelmed by what's happening. I expected this to all happen the moment Trump won the election, but I just can't fathom how truly awful some people are. I'm scared for the entire world. I'm trying to signal boost things online as much as I can because I don't have the means to protest physically, but it just doesn't seem like enough. I'm trying to be hopeful about the future but it's really hard.
I'm sure you've noticed I've hardly been around the community this month and above is why. I just haven't had the energy. This isn't how I wanted my first full year of blogging to begin, but I'm hoping I'll be able to get back into the swing of things soon. I appreciate all of you for sticking with me.
Just one book this month!! In all honestly, it's probably gonna stay like this for a while. I have a student loan I've been putting off paying for too long.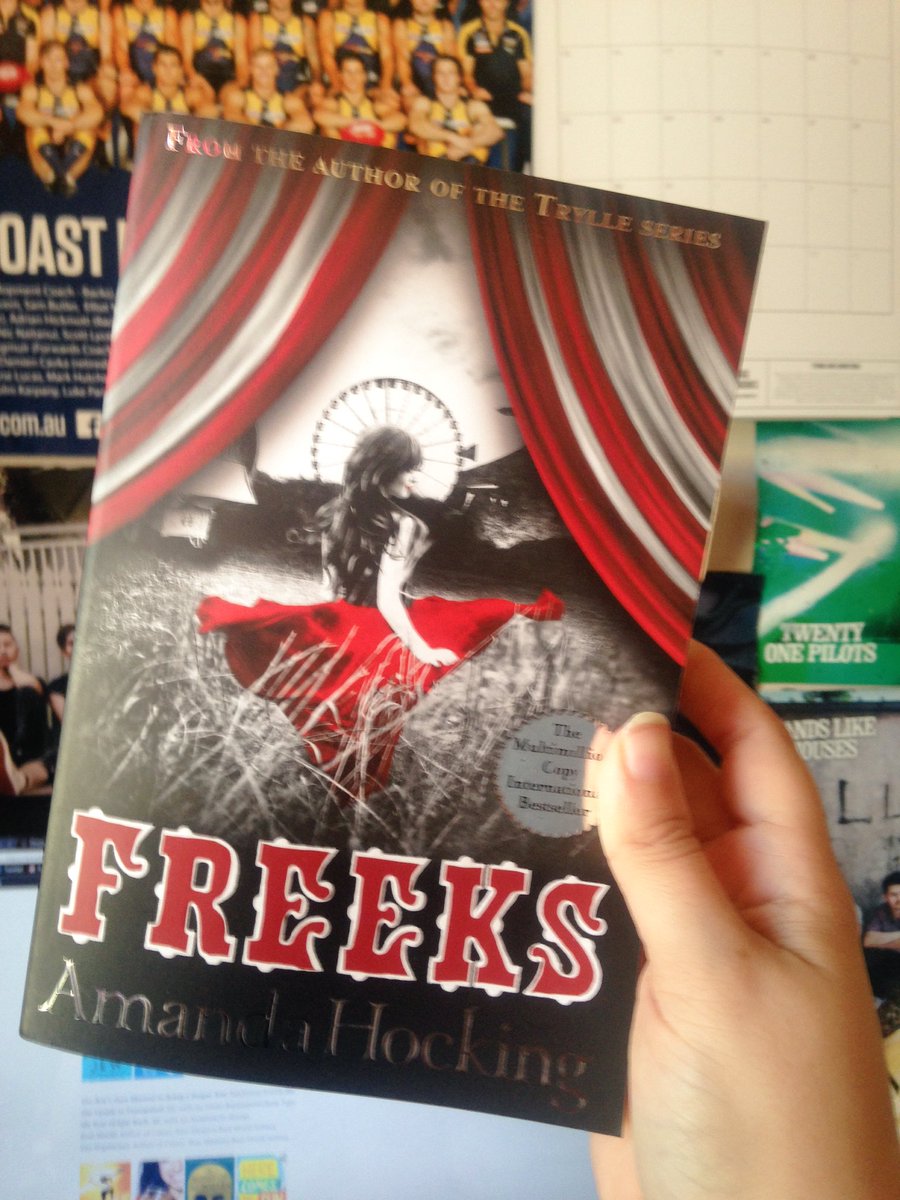 I received a copy of Freeks by Amanda Hocking from Pan Macmillan Australia! Will be participating in a blog tour at the end of the month so stay tuned.
The first week of January was amazing for me. I read 5 books in 5 days. Two of them were books that were at the top of my YOU NEED TO READ THIS BOOK pile. All 5 were diverse reads. I was so confident for the rest of the month. Then everything went downhill and I haven't read anything in like 2 weeks and I'm still struggling to pick up anything.
Whilst I managed to successfully complete the Dumbledore's Army Readathon with reading 6/7 books. I TOTALLY FAILED Diverseathon which I'm super bummed about because I have been excited for it for so long. Last Diverseathon I read Homegoing and it became one of my favourite books. I was hoping to have a similar reaction with the group book this time around, but I only managed to read one book and it wasn't the group book.
"But Lauren you read 10 books how is that failing?" because I read all of these in the first 2 weeks of the month and I haven't wanted to touch a book since 😂😩
Simon vs the Homo Sapiens Agenda (★★★★★) – Pretty sure this is the cutest book I've ever read. Still craving Oreos.
Highly Illogical Behavior by John Corey Whaley (★★★★★) – I was worried about this book because it deals with agorophobia which I also suffer from. However, it was handled brilliantly and I loved it so much.
More Happy Than Not by Adam Silvera (★★★★★) – Lowkey think this book put me in a reading slump because I loved it so much. It broke my heart in the best way. I honestyl can't stop thinking about Aaron and Thomas.
Aristotle & Dante Discover the Secrets of the Universe by Benjamin Alire Sáenz (★★★★★) – I read this and listened to the audiobook and Lin's narration was everything. It was a little slow at times, but it didn't affect my rating because the characters and writing was so wonderful.
Juliet Takes A Breath by Gabby Rivera (★★★★★) – Super important book that deals with feminism and the importance of intersectional feminism. My fave thing about this is how you as a reader learn along with Juliet.
Of Fire and Stars by Audrey Coulthurst (★★★★) – I know there's a lot of mixed reviews for this book and whilst it does suffer from a lot of Fantasy tropes and cliches I thought it was extremely fun and it was two princesses saving a kingdom and falling in love so!!!
Citzen by Claudia Rankine (★★★★) – This is the one and only book I read for Diverseathon. It's not my usual poetry style but it really opened my eyes to the injustices black people face on a daily basis. I definitely recommend it!
The Reptile Room, The Wide Window and The Miserable Mill by Lemony Snicket (★★★★) – I read these along with the Netflix series and it was so much fun. It's such a great series! God damn the adults are absolutely frustrating as hell though, haha. If this entire series isn't a metaphor for how adults need to start listening to younger people then idek.
Obviously the majority of this month was spent NOT reading so that resulted in lots of other forms of media, haha.
MOVIES & TV
Sing was such a fun movie! I took my younger siblings to see it, but I think I enjoyed it more than they did. I also absolutely loved A Series of Unfortunate Events. I MISS IT SO MUCH. The filming style was brilliant and it did a good job at staying accurate to the books. I've been enjoying Season 2 of Shadowhunters a lot more than Season 1!  
The season final of Sweet/Vicious aired and I don't know what I'm going to do if it isn't renewed. It's one of the best, most important shows on TV and you NEED to watch if you aren't. I also binge watched White Rabbit Project and then when I finished that I decided to binge Mythbusters. I'm such a geek when it comes to science. I love all the random facts so much.
MUSIC
SO MUCH MUSIC STUFF HAPPENED THIS MONTH??? Ed Sheeran released 2 new songs BOTH WITH VIDEOS!!! The Maine released a new song. I fell in love with One OK Rock. From First To Last did a song with Sonny Moore and I've never been more emo in my life.
Did anyone listen to Triple J's Hottest 100?? What did you think?? I feel like the Top 10 this year was one of the absolute worst. There were better songs in the bottom 50.
Anyway, here's a playlist of my fave songs from January!
And like last year, here's a playlist that will constantly be updated with my favourite albums that will be released this year!
GAMES
I don't by any means consider myself a gamer. However, I love watching Let's Plays and playing ones that are heavily story based and that are point and click. I don't have the skills for all those complex ones 😂. I really loved Life is Strange and was seriously missing it this month so I filled the void with Oxenfree and Broken Age. I absolutely loved Oxenfree. The story and characters were amazing. I need to replay it because I missed so many things. Broken Age had an incredible story and I loved Vella. The second half was pretty frustrating at times because the puzzles were a little complex me for me. I NEVER WANT TO SEE A HEXAGON AGAIN IN MY LIFE. The art in both games were absolutely stunning. I also fell back into a The Sims hole because of their toddler update. Of course this meant downloading Custom Content more than actually playing anything.
There weren't that many posts this month, but here's a few of my favourites!
What was your favourite reads or posts in January? Feel free to leave any links in the comments.
Like always, I'd love to hear your thoughts.
I hope you all had a fantastic January and even better February.