Marvel-A-Thon is a MCU based readathon that is being hosted by the wonderful Jamieson @ Jamishelves! It's a month long readathon that's running from June 1st – July 1st. There's three phases of the readathon that correspond with the movies that were released. You have to complete one phase to move onto the next. For all the rules and details please visit Jamieson's post!
I'm honestly not sure how far I'll get with the readathon because my reading has been pretty non-existent this year (and I fail readathons at the best of times 😂) so I'm just taking one phase at a time and seeing how far I get. If I manage to read all the books from this phase then I'll post a TBR for phase 2 and so on!

The Abyss Surrounds Us by Emily Skrutskie
For Cassandra Leung, bossing around sea monsters is just the family business. She's been a Reckoner trainer-in-training ever since she could walk, raising the genetically-engineered beasts to defend ships as they cross the pirate-infested NeoPacific. But when the pirate queen Santa Elena swoops in on Cas's first solo mission and snatches her from the bloodstained decks, Cas's dream of being a full-time trainer seems dead in the water. There's no time to mourn. Waiting for her on the pirate ship is an unhatched Reckoner pup. Santa Elena wants to take back the seas with a monster of her own, and she needs a proper trainer to do it. She orders Cas to raise the pup, make sure he imprints on her ship, and, when the time comes, teach him to fight for the pirates. If Cas fails, her blood will be the next to paint the sea.
I checked this out of the library and have heard nothing but amazing things about the series! Pirates and a f/f romance!?!? Yes thanks!!!

The Gallery of Unfinished Girls by Lauren Karcz
Mercedes Moreno is an artist. At least, she thinks she could be, even though she hasn't been able to paint anything worthwhile in the past year. Her lack of inspiration might be because her abuela is in a coma. Or the fact that Mercedes is in love with her best friend, Victoria, but is too afraid to admit her true feelings. Despite Mercedes's creative block, art starts to show up in unexpected ways. A piano appears on her front lawn one morning, and a mysterious new neighbor invites Mercedes to paint with her at the Red Mangrove Estate. At the Estate, Mercedes can create in ways she hasn't ever before. But Mercedes can't take anything out of the Estate, including her new-found clarity. Mercedes can't live both lives forever, and ultimately she must choose between this perfect world of art and truth and a much messier reality.
Another book I checked out the library so I really need to read it! I love fabulism and this sounds super interesting. I know it's not for everyone, but I love whimsical writing styles. Plus it's another book with LGBTQIA+ rep – the MC is bi.
White Rabbit by Caleb Roehrig
Rufus Holt is having the worst night of his life. It begins with the reappearance of his ex-boyfriend, Sebastian—the guy who stomped his heart out like a spent cigarette. Just as Rufus is getting ready to move on, Sebastian turns up out of the blue, saying they need to "talk." Things couldn't get much worse, right? But then Rufus gets a call from his sister April, begging for help. And then he and Sebastian find her, drenched in blood and holding a knife, beside the dead body of her boyfriend, Fox. April swears she didn't kill Fox – but Rufus knows her too well to believe she's telling him the whole truth. April has something he needs, though, and her price is his help. Now, with no one to trust but the boy he wants to hate yet can't stop loving, Rufus has one night to prove his sister's innocence…or die trying. 
I decided to take "unpopular" as a low number of ratings. I am so excited to read this book because I LOVED Caleb Roehrig's other book Last Seen Leaving so much. I'm in such a mood for thrillers right now because it's been so rainy and stormy. I feel like I could probably read this in one setting because it seems like it's going to be really fast paced. It's also a m/m #ownvoices.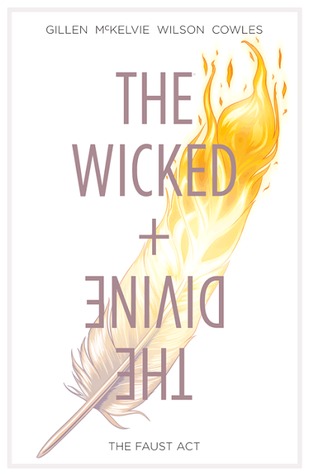 The Wicked + The Divine, Vol 1: The Faust Act by Kieron Gillen (words) & Jamie McKelvie (art)
Every ninety years, twelve gods incarnate as humans. They are loved. They are hated. In two years, they are dead. A world where gods are the ultimate pop stars and pop stars are the ultimate gods. But remember: just because you're immortal, doesn't mean you're going to live forever.
Technically this is a reread, but I read it at the beginning of last year and can not remember ANYTHING that happens and I want to reread this volume before I go on to volume 2. From what I remember it was one of the most unique comics that I've read and I'm hoping this time around I might understand things a bit more, haha.
DC Bombshells, Vol 1: Enlisted 

by

 Marguerite Bennett (words) & Marguerite Sauvage (art)
As Word War II rages across Europe, the Allied forces issue a call to arms for the greatest heroines the world has ever known: THE BOMBSHELLS! KATE KANE, the all-American Batwoman; DIANA OF THEMYSCIRA, warrior Princess of the Amazons; KARA STARIKOV and KORTNI DUGINOVNA, defenders of Mother Russia; and MERA, royal daughter of the legendary Atlantis! With aid from their allies at home and abroad, these mighty women will turn the tide of war and defend those inviolable rights of Truth, Justice and Freedom. 
I've been wanting to read this series for ages because I know eventually that in a later volume Harley Quinn and Poison Ivy become an actual couple and it's literally all I've ever wanted. It's also another library book!

Seven Ways We Lie by Riley Redgate
Paloma High School is ordinary by anyone's standards. It's got the same cliques, the same prejudices, the same suspect cafeteria food. And like every high school, every student has something to hide—from Kat, the thespian who conceals her trust issues onstage, to Valentine, the neurotic genius who's planted the seed of a school scandal. When that scandal bubbles over, and rumors of a teacher-student affair surface, everyone starts hunting for someone to blame. For the seven unlikely allies at the heart of it all, the collision of their seven ordinary-seeming lives results in extraordinary change. 
If you're gonna read a multi POV book may as well go all out and read one with seven POVs, right?? I've been wanting to read this for ages because I loved Noteworthy. I know a lot of people would hate this many POVs but I love it so much because it really helps hold my attention. I feel like I could also potentially finish this in a day too!!
Are you participating in the Marvel-A-Thon readathon? Link me to your TBRs if you are!
Would love to hear your thoughts on any of the books I mentioned here.
I hope you're all having a fantastic day.

Find me: Twitter – Goodreads – society6 – RedBubble
Support Me: Kofi – Book Depistory affiliate link