HOW ARE WE AT THE POINT THAT I'M DOING THIS TAG AGAIN?!?!!? I wasn't tagged by anyone, but I'm doing this anyway because it's a good way to look back at the past six months!!
This tag was created by Chami @ ReadLikeWildFire and Ely @ Ely Jayne. It's where we look back at (and freak out over) the books we've read during the past six months.
Despite my inability to stick to any kind of a structured TBR I'm pretty happy with my reading so far this year! I've read 53 books so far and unlike last year the majority of them are ACTUALLY novels not graphic novels, haha. I already reached the first Goodreads goal I set for myself. I just wish I was better at finishing series.
Best Book You've Read So Far In 2017
I can't choose?????
I love these all so much for a multitude of different reasons. I love the characters, the stories and I've been able to relate on a personal level to a lot of them. Can we also talk about how these are all contemporaries except ACOL and Strange the Dreamer??? That's such a rarity 😂 These are all 5 stars except Strange the Dreamer but I'm including this here because Laini Taylor is a creative genius and it's one of the most unique fantasies I've read.
This has been a good reading year so far for sure 💪🏻
Best sequel you've read so far this year?
You can tell how terrible I am with continuing series with the answer to this question. These are the only 2 "sequels" to series I've read this year and technically neither of them are sequels?? Down Among the Sticks and Bones is a prequel and A Conjuring of Light is the final book in the series. I LOVED THEM BOTH SO MUCH THOUGH. Down Among the Sticks and Bones brought up a lot of important discussions about gender roles and I'm still not ready to let go of the Shades of Magic series.
New Release You Haven't Read Yet, But Want To

I'm actually trash for not having read this yet. I'm the worst and I'm going to try and get to it REALLY soon.
Most Anticipated Release for the Second Half of the Year
I'm trash for The Merciless series so I can't wait for the third installment! Bloomsbury is sending me a copy of Because You Love to Hate Me and I can't wait. I love villains so I really hope the ones in here are well-written (which I'm sure they will be with authors like V.E. Schwab and Adam Silvera!!). There's Someone Inside Your House has been on my TBR since it was untitled so to say I'm excited for that is an understatement. I'M ALSO NOT READY FOR THE FINAL BOOK IN THE MAGNUS CHASE SERIES. The second book in the series made me totally fall in love with it.
Biggest Disappointment
Go figure I read all of these in the same month??? I was so excited to read The Whole of My World because it's an Aussie YA that heavily focuses on AFL. I loved it because it really got what it was like to be a footy fan and captured the culture really well, but there was a relationship between the MC (who was 14-15) and a male character who was 30. It made me so uncomfortable. There was a fair bit of misogyny too.  I think I may have liked Shatter Me when it was first published, but now that I'm older I noticed all the borderline abuse dressed up as romance. I still need to write a full review for One of Us is Lying but short version: it glorified suicide. The Roanoke Girls was a mess that romantised so many serious issues like abuse and incest.
Biggest Surprise
I never get scared by horror books, but both of these books changed that. They had me so on edge the entire time. The both featured some of my biggest phobias (open spaces, water) so that probably played a part on it, but they were so incredibly atmospheric.
Also, as a whole I'm just surprised by the fact that the majority of the books I've read this year have been contemporaries????? That is normally my least read genre, but man contemporaries have been KILLING IT this year.
Favourite New Author (Debut or New To You)
ADAM SILVERA AND BECKY ALBERTALLI!!!! They're not debut but they're new to me because I've read ALL their books this year. THEY COULD WRITE A PHONE BOOK OR A MENU AND I'D PAY MONEY TO READ IT.
Newest Fictional Crush
I'm an old lady and I read YA so yeah….. I don't really have any??? It would be a little weird if I did, haha. I guess I could maybe say Holland 👀👀👀
Newest Favourite Character
HOLLAND 😭😭😭😭😭😭 After I finished A Conjuring of Light he was literally all I cared about. I love him so much and my heart hurts so bad. MY POOR SON. HE DESERVES HAPPINESS!!!!!!!!!
Book That Made You Cry
When doesn't a book make me cry??? but these two are STAND OUTS. I honestly cried so much during both of them??? Like the entire final 30% of ACOL I was in TEARS and TBDATE had me crying for like 20 minutes after I finished it.
Book That Made You Happy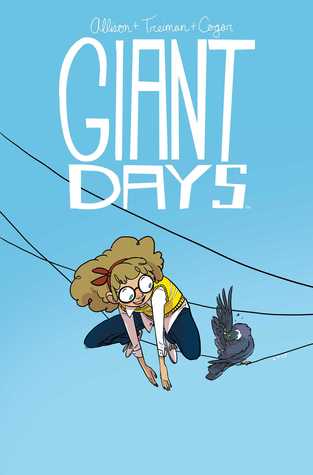 Noteworthy and Queens of Geek made me SO HAPPY. They discuss so many important issues, but they are so cute and fun and adorable and if you haven't read them then WHY???????? Also I FINALLY read Volume 3 of Giant Days and it's such a fun comic series that never fails to make me smile.
Favorite Book to Film Adaptation
I haven't watched any 💁🏻.
Favorite Post You Have Done This Year
I haven't been the most consistent or original post year, but I have a couple!
I'm really happy with this review! It's a bit rambley and not "professional" AT ALL, but I think it really showed just how much I ADORED this book. It seemed to get a positive reaction too so!!! It also made me realise that I need to stop being so hard on myself when it comes to reviews. I always feel self-conscious about them because I definitely don't have elite writing skills. My grammar is probably non-existent since I never really had a higher education.
On a more personal note then definitely my post where I talked about being Aromantic. I feel like it's an orientation that does not get enough attention. I felt nervous about this post for so many reasons and I put off posting it like 5 times. I didn't want people to think I was trying to take anything away from other people in the queer community who struggle more, but I think I managed to handle everything respectfully.
Most Beautiful Book You've Bought This Year
I've bought hardly any books this year because I'm BROKE AF, but I recieved a signed copy of Strange the Dreamer by Laini Taylor from Hachette Australia and it's beautiful 😍😍😍😍😍😍😍
What Book Do You Need to Read by the End of the Year
I said this last year too but: ALL OF THEM????
Like my TBR is ridiculous. I am so behind on EVERYTHING.
I have a 2017 TBR shelf on Goodreads that I'm adding to CONSTANTLY. Some main ones from that shelf though:
Would love to hear your thoughts on any of these books!
What's been your favourite (or least favourite) read so far this year?
I hope you're all having a fantastic day.
Find me: Twitter – Goodreads – society6 – RedBubble – Kofi
Support me and this blog by purchasing a book from The Book Depistory by using my affiliate link!