Happy New Year 🎉🎉
If you went out partying last night I hope you didn't wake up with a hangover. If you were like me and stayed in and probably fell asleep before midnight then HIGH FIVE.
Honestly. How. Is. It. 2017.
2016 has been quite the dumpster fire of a year, but I can't believe it's over.
I hope everyone had a lovely holidays! My Christmas day was super chill and we didn't really do anything special, but it was a good day! And I got some super cool presents so that's a plus.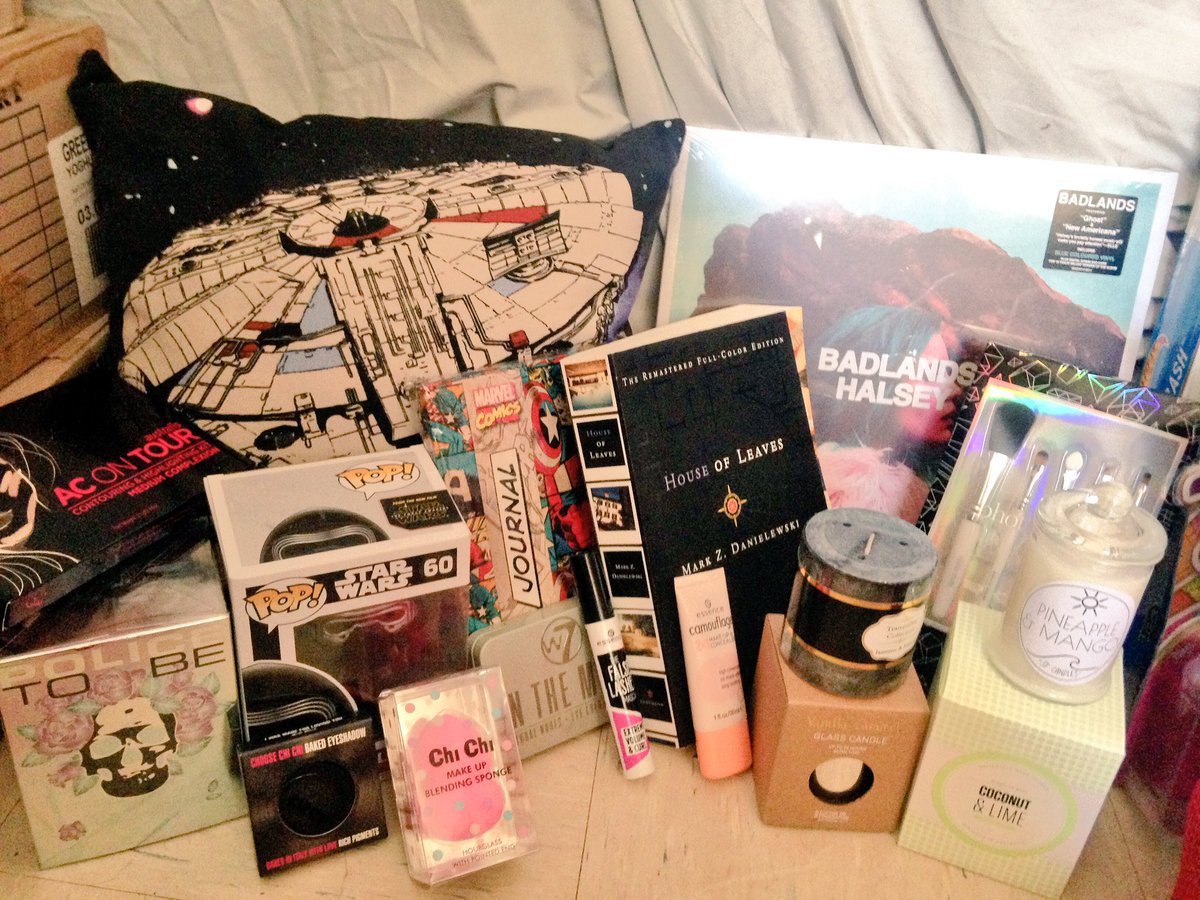 You also probably noticed that I haven't been around the blogosphere lately. I mentioned briefly that my sister was in hospital for a few days. That was part of the reason, but I also just felt really run down and in a rut. I even deactivated Twitter for a couple of days because I just wanted to get away from everything. I still kind of do, but I miss being here and wanted to keep people updated because I know not all of you follow me on Twitter.
I also just wanted to share this photo of my dog getting jealous over the attention I was giving of Six of Crows. I love him so much.
I want to briefly talk about Carrie Fisher too. In a really sad irony, the day she passed was the same day I watched The Force Awakens in 2015 and it's when I fell in love with Star Wars. I haven't been a Star Wars fan as long as most people, but straight away I fell in love with Carrie's honesty. As a mentally ill person it was so inspiring to see her. I love how unashamed she was of her illnesses and addictions. I appreciate how open she was. She helped me see that I can still be successful whilst having my mental illnesses.  It made me less ashamed about my own illnesses. I'm sad that I never got to experience her presence for longer, but what I did get to see will stay with me forever. I just wanted to share this quote, because it means the world to me.
Thanks for everything, Carrie ♥♥♥
The best thing about December? I hauled 6 books and all of them were free. Major thanks to Hachette Australia and their YA hub Date A Book, Pan Macmillan Australia, CW @ Read Think Ponder (whose giveaway I won!), a local used bookstore and my sister 😅
A Quiet Kind of Thunder by Sara Barnard (ARC) • House of Leaves by Mark Z. Danielewski • Not Your Sidekick by C.B. Lee • Ring by Koji Suzuki
Pan Macmillan sent me A Quiet Kind of Thunder and I'll be participating in a blog tour later this month so stay tuned for that!! Not Your Sidekick was what I chose in CW's giveaway (a bisexual woc superhero yes pls) and my sister bought me House of Leaves for Christmas and I can't even fathom how excited I am to read it.
Fun story about Ring: On New Years Eve my dad and I stopped in at a location we do paranormal investigations at. It's a motel with a used bookstore built in. It's honestly amazing. I was walking around the bookstore while my dad was having a beer and I found Ring! It felt like fate. There's tons of books there and no real orginisation, but I managed to find it! I went to pay for it, but the owner was like, "no, Happy New Year" and I was like "omg, really???" haha. So yes! Score!!!
Frostblood (ARC) by Elly Blake
I was lucky enough to win this in a giveaway that Hachette Australia were hosting!
Caraval (ARC) by Stephanie Garber
I have already read this, but this ARC is so pretty I love having a physical copy. Thank you, Hachette ♥
This was my worst reading month all year, but honestly I didn't mind. I beat my GR goal and whilst there are tons of books I want to get through it was nice having a break.
Six of Crows by Leigh Bardugo (★★★★★) – I finally read this and it was everything I wanted and more. I love the characters so, so, so much.
A Quiet Kind of Thunder by Sara Barnard (★★★★) – This is everything a contemporary should be. I'm participating in a blog tour so I'll be posting my thoughts then, but I feel like so many people are going to love this.
The Female of the Species by Mindy McGinnis (★★★★★) – I read this in one day and WOW. This is such an important read that deals with rape culture and internalised sexism. It's definitely not an easy ready and if you're triggered by sexual abuse, rape, violence or animal injury then you might be able to read it. However, if you can get through that then I can't recommend it enough.
Let Her Go by M. Ocean (★★) – This is a poetry book I found on the Kindle store. I found some of the poems okay, but otherwise I just felt really disconnected. There was also a poem that was literally Pierce The Veil lyrics and I don't know if it was unintentional or a straight up copy, but it kind of threw me off the rest of the collection.
The Bad Beginning by Lemony Snicket (★★★★) – I was oriinally planning on participating in #CramAThon, but didn't really get very far haha. Anyway, this is one of the two books I read for it. I thought it was about time to finally make a dent in this series because I loved the movie and the Netflix series is starting soon. I really enjoyed this! It was a fun read despite the depressing themes it dealt with. I also read it in like 20 minutes which I was not expecting.
A Boy Without His Feathers by Beau Taplin (★★★★★) – This is another book I read for #CramAThon. Beau is an Australian writer who used to be connected with one of my fave Aussie bands For Our Hero. I actually met him a few years ago and he's super lovely ♥. I loved this collection so much. Beau writes so beautiful and the introduction to this book is my favourite thing ever. I feel everything he writes in my soul. Definitely check out his Twitter and Tumblr were he shares a lot of his work!
The Book Thief by Markus Zusak (★★★★★) – I FINALLY DID IT YOU GUYS!!!!!! I READ THE BOOK THIEF!!!!!!!!!! And subsequently cried my eyes out. This book was so beautiful and heartbreaking.
Like always when I'm not feeling much of anything I binged watched a TV show and some movies.
TV
SWEET/VICIOUS (MTV)
I watched all 5 episodes that were available in a day. GUYS I AM OBSESSED WITH THIS SHOW. I can't recommend it enough. The main character Jules is a vigilante who goes after guys who have gotten away with raping girls on her college campus. Ophelia, the other main character, stumbles across Jules whilst she's "dealing" with a guy and the two decide to team up. It's a super important show that deals with issues like rape culture and even racism. I am DYING FOR THE NEXT EPISODE. Jules and Ophelia are my babes. I love them both so, so, so much. Obviously, this show deals with things like rape and there are scenes that might be triggering for people, but if you can handle that then definitely check it out.
TRAVELERS (NETFLIX)
The concept of this show is that people from the future come back to the past and by knowing the exact time and place of someone's death they can use them as "hosts".  The main characters are a team who are supposed to help fix things by changing the past to alter the future. I was confused by the first episode, but I kept watching and now I'm OBSESSED. I've already watched 8 episodes and a season 2 hasn't been confirmed yet so I really don't want it to end. It's super intense and gripping and I love the characters so much THEY ARE ALL MY CHILDREN. If you've watched this then let me know because I need to fangirl!! Also heads up the one of the characters is dealing with a drug addiction and the other has an abusive spouse so be careful if you're triggered by those.
MOVIES
With everything going on in my life I was just really in the need for some dumb comedies that require you to do zero thinking. So that's what I watched. This is the End and Pineapple Express were both rewatches. They're so hilarious I love them so much. Neighbors was hilarious too. I feel like I'm officially old because I was so on Seth Rogen and Rose Byrne's side of the feud, haha. Also, Zac Efron and the Franco brothers are 😍👌🏻
MUSIC
This month really shows how my music taste makes no sense. There's so many different genres on here. We go from post-hardcore covers of pop songs to Nicki Minaj 😂 One of my favourite songs of this month I only just discovered the other day is Mine by Phoebe Ryan and no, it's not a hardcore song haha. I heard it on Sweet/Vicious and I fell in love. I really like associating songs with my favourite characters and this just described everything on the show perfectly so it's been on repeat for like 2 days.
Don't forget to check out my latest Music Monday post where I talked about my favourite albums of the year!
Obviously, not much was posted this month but here a few things for you to check out!
Honestly my plans are to have no plans anymore because every time I try to organise things real life is like "lmao you thought".
Also, kind of irrelevant but I deleted my Bookstagram. I was just not cut out for the community. I only made one because everyone else had one and I thought it's what I was supposed to do. I don't have the means or space to take decent photos and I hated /EVERYTHING/ I posted. So yeah. That's gone now, haha. I still have my account open because I want to check my feed occasionally, but I won't be posting which is nbd because my "photos" aren't anything to miss 😂.
What was your favourite read in December?
Like always, I'd love to hear your thoughts.
I hope you all had a fantastic December and even better January.

Find me: Twitter – Goodreads – society6 – RedBubble