Firstly,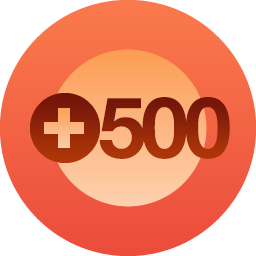 WHAT THE HELL!!!!!!! I love you all so much. I know I say this all the time, but I'm so happy to have started this blogging journey. You're all wonderful.
Anyway, besides reaching 500 followers the most exciting thing that happened was that I RECEIVED MY FIRST PHYSICAL REVIEW COPY FROM A PUBLISHER. I honestly can't even explain how amazing it was seeing my blog name on the postage label. It felt like all the work I've been doing on this blog had paid off. Like, I don't blog for free books and I definitely do this for fun, but it just made me feel really relevant. It was also important because before blogging I would never have even considered contacting someone as important as a publisher because of how bad my anxiety was. It seems like a little thing, but it was huge for me.
The other SUPER exciting things that happened this month is that I opened my society6 and RedBubble store!! I'm planning a whole post on it later so I won't get into it too much now.
Now it's time for the part of every wrap up post where I say: HOW THE HELL IS THIS MONTH OVER? It's INSANE how quick this year has gone. I'M SO EXCITED FOR OCTOBER THOUGH BECAUSE HALLOWEEN!!!
BOOKS I HAULED
I had no income this month yay for severe anxiety and agoraphobia! but I still managed to accumulate 5 books.
From Publishers
I received The Creeper Man by Dawn Kurtagich (US Title: And the Trees Crept In) from Hachette Australia. I'm really excited to read this! It's definitely going to be one I'm picking up next month.
Angus & Robertson / Discounted Books
I've been wanting to read More Happy Than Not by Adam Silvera for so long. Adam launched a YouTube channel this month and I kinda fell in love with him. He does really fun interviews with a bunch of cool authors. I defs recommend checking out his videos! The cover has a matte finish so I keep randomly touching it because it feels so nice, haha. I purchased this from
I purchased this from Angus & Robertson which is where I buy all my books from online and they're amazing. If you're Australian I definitely recommend checking them out. Their prices aren't that much more expensive than Book Depository, they ship in 2-4 days if you're in a metro area (I'm not but still 1 week is better than 2-3 which is what it takes for Book Depository) and if you use Booko you can get free shipping on any order. This isn't hashtag sponsored, but I wish it was. So hey, if you're reading this A&R – hit me up 😏
Another cool thing that happened was that I found out one of these discount stores (that sell odds and ends) in my town started selling books half price!! There was only a small range and a lot I already had, but I managed to find three that I wanted! I'm really hoping they keep it going and get more in.
Challenger Deep by Neal Shusterman • Eleanor by Jason Gurley • Foxlowe by Eleanor Wasserberg
I've heard great things about all of these books and they all sound really intriguing. Challenger Deep has mental health elements and Eleanor and Foxlowe both have elements of magical realism. Foxlowe also deals with cults which I'm fascinated by.
Like always I have no idea when I'll be reading these, but they were half their RRP so I couldn't resist. The covers for Eleanor and Foxlowe are so gorgeous too.
BOOKS I READ
I thought I was going to have a bad reading month, but it was actually one of the best I had? I managed to read 3 books in a week during #diverseathon!! I also gave out a ton of 5 stars.
I read 12 books this month.
My favourite reads were: Every Heart A Doorway, The First Third, Homegoing & Caraval.
Covers = Goodreads / My review
3 & 4 Stars
Three Dark Crows by Kendare Blake (★★★) – I have a review up for this, but basically it was an interesting premise, but misleading marketing made me not enjoy this as much as I potentially could have. I am intrigued to see how the next book is! (I was provided with a copy of this book via Netgalley & Pan Macmillan Australia)
Blue is the Warmest Color by Julie Maroh (★★★) -I loved that this was a story about WLW but it did fall a bit flat for me. I wasn't really able to connect to the characters. This is 100% an "It's Me, Not the Book™" situation because it really was a beautiful and heartbreaking story. I just don't really do romance contemporaries.
Labyrinth Lost by by Zoraida Córdova (★★★★) – This was such a fun read!! The world that was created was so magical and I loved the mythology. It was so great having a POC main character that identified as bisexual too. Planning on posting a review of this soon so I'll go into more detail then.
Potter Presents by J.K. Rowling (★★★★) – After The Cursed Child it was just really great having something that was actually written by Jo. Having read these close to TCC it was so easy to tell the differences in the writing style. I gave Short Stories from Hogwarts of Heroism, Hardship and Dangerous Hobbies 5 stars and the other 4. It's a shame that a lot of this was available on Pottermore for free and has since been taken down, but I loved reading about Lupin, McGonnagal and Peeves especially. I really wish we could actually read Hogwarts: A History. Also, there's something about Time Turners in here that makes The Cursed Child even less plausible.
5 stars
I plan on writing reviews for most of these so stay tuned! 
A Monster Calls by Patrick Ness – THIS IS ONE OF THE MOST BEAUTIFUL AND HEARTBREAKING THINGS I HAVE EVER READ. I cried for pretty much the ENTIRE book.
Homegoing by Yaa Gyasi – This was the group book for #Diverseathon and oh my god. I am so glad I read it. Such an amazing and brutally honest story. It opened my eyes to SO much.

Every Heart A Doorway by Seanan McGuire – From my review I'm sure you all know how much I loved this book. I connected to it on such a personal level. The story and writing were so beautiful and unique.
Wynonna Earp, Vol 1: Homecoming by Beau Smith (writer) & Lora Innes (art) – If you love badass ladies who fight demons then you need to read this comic. There's also a TV show based on this which I am 100% checking out. There's also a great dynamic between ragtag characters. (I was provided with a copy of this via Netgalley and IDW Publishers)
The First Third by Will Kostakis – I'm sure you all know how much I love Will and his other book The Sidekicks so my expectations for The First Third were high and it exceeded every one of them. This book is what every contemporary should aspire to be. There was a beautiful family relationship, no absent parents, some romance but it wasn't the focus, incredible friendships and an important secondary character identified as gay and had a disability. Again, this book really connected to me on a personal level. When I finished it I actually hugged it. The last third (pun not intended) made me cry eyes out. When I finished the book I was still crying for about half an hour, hahaha. THANKS WILL.
Caraval by StephaieGarber – THE HYPE IS REAL, FRIENDS. I can't say too much about this because it's not released until next year, but IT WAS SO MAGICAL AND ATMOSPHERIC. I was totally swept away. I haven't read The Night Circus yet but I feel like this would be quite different, so don't go in expecting it to be the same or you might be disappointed!! (I was provided with a copy of this via Netgalley and Hachette Australia)
Posts & Things
Some posts this month I'm proud of are:
Upcoming:
I really want to try and put out more original content. It was so much fun planning the readathon. I'm planning an upcoming post about contacting publishers similar to my other Newbie 2 Newbie post. I'd love to switch over to self-hosting before the end of the year too, but we'll see how it goes!!! I'm also going to try harder to keep up with everyone's posts and comments.
Music:
I made a couple of playlists on Spotify! The first is my favourite albums released so far in 2016 and the second is a random bunch of songs I listen to while I'm blogging/designing. As you can tell my music taste makes absolutely no sense. I'll be adding to both of them so feel free to follow me!
---
If you got through this entire thing: congrats!!!
I'd love to hear your thoughts on any of these books! Have your read them? Or are they on your TBR?
What was your favourite read this month? Feel free to leave a link to your own wrap up posts so I can drop by.
I hope you all had an amazing September and have an even better October xx