Happy July, beautiful people!
I'm still trying to find my footing with how I want my wrap up posts formatted. For this post I'm going to be splitting them up because I want to talk more about the books I buy and read instead of just listing them all down. I don't want to make the posts too long for you guys so I figured doing a Haul post and a Books I Read post would be the best option! In the Books I Read post I'll also go into blog/real life stuff. For the months I don't buy many books I'll probably just combine then. I've also decided to stop doing weekly wrap up/Stacking the Shelves/Sunday Post posts for the time being.
Anyway! Let's dive in to the books I bought in June!
Books I Hauled
I still haven't beat my Birthday Haul month total, but I did buy a total of 12 physical books this month! I did buy a ton of ebooks which is a surprise to no one, but we'd be hear all day if I listed all those so I'm just going to talk about ones I'm most excited for.
For Review
My first physical ARC!!! I'm honestly not too caught up in ARCs, but not even gonna lie receiving this was so exciting.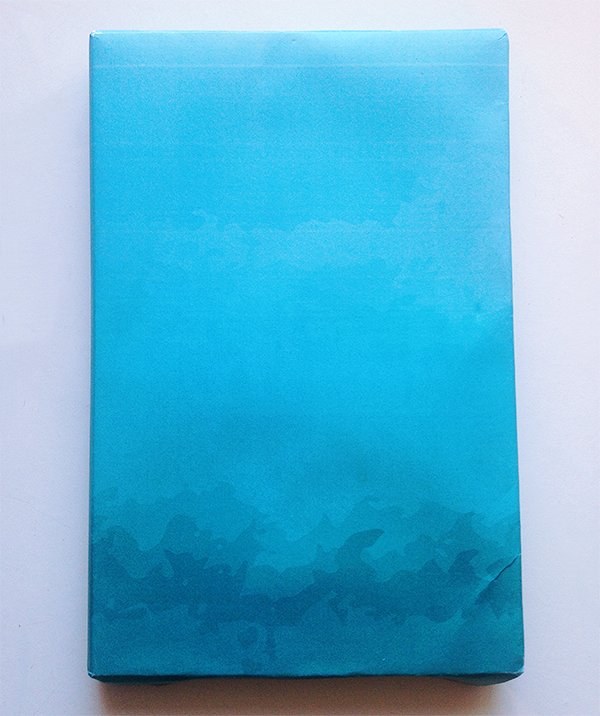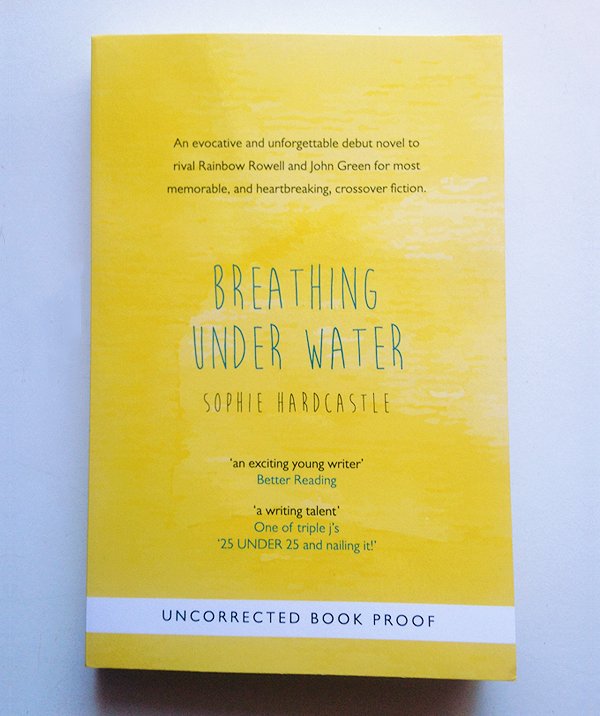 Breathing Under Water by Sophie Hardcastle
I was lucky enough to recieve this from Hachette Australia and their YA hub Date a Book. It came wrapped in this super pretty blue wrapping paper and it was like I was receiving a birthday or Christmas present 😂 I haven't read this yet, but it's an Australian YA Contemporary that's about two twins. Something goes down and then things change. It's very vague which I'm excited for. The letter from the publisher says that it explores themes such as: family, grief, rape and drug use. I've heard mixed things, but I'm still really excited to read this. I'm hoping to get to it this month! It's going to be published July 12.
Perth Trip Haul
So at the start of the month I made a quick over night trip to Perth. I didn't get a chance to explore too many book stores, but I did pop into New Edition and Elizabeth's Bookshop super quickly and they were both amazing. When I get more time in Perth, I'll definitely be exploring them more. I bought all these books from K-Mart and Big W with the exception of one which was my "Blind Date With A Book" book. I honestly had picked about 15 books that I wanted to buy, but I managed to cut it down to these ones here. It was not an easy feat!
The Princess, The Scoundrel and The Farm Boy by Alexandra Bracken • The Loneliness of Distant Beings by Kate Ling • The Night Circus by Erin Morgenstern
When I found out Alexandra Bracken was writing a Star Wars book I wasn't that interested because it was before I was a fan. Then I watched The Force Awakens and fell in love and watched the other movies and fell into a Star Wars shaped hole and I still haven't climbed out. I remembered Alex's book and I was really excited. I couldn't find it ANYWHERE for so long, but then there it was! It's all about Leia, Luke and Han and it's illustrated which is so cool. I can't wait to read this because Alex is one of my favourite authors.
To be perfectly honestly The Loneliness of Distant beings was 50% a cover buy. I mean… LOOK AT IT. When I was on Goodreads to link this book I actually found out it wasn't even on my TBR. Oops? The blurb on the physical copy got me too because it was super poetic and vague. It's about a girl who's in space and she meets some guy. I'm worried it's gonna be instalove-y, but oh well.
I'm so excited to have The Night Circus in my possession! I have heard nothing but wonderful things about it. I love love love magical realism and this sounds like it's going to be absolutely incredible.
Hidden Bodies (You #2) by Caroline Kepnes • Ashley Bell (Ashley Bell #1) by Dean Koontz
Can we appreciate how beautiful these covers are? I have heard a lot of mixed reviews for Hidden Bodies. I know a lot of people who adored You (which is one of the most creepy and amazingly psychological books I've ever read) weren't a fan of it. I'm the type of person who needs to see for myself though so I picked this up.
I've never read a Dean Koontz book and I've heard people either love him or hate him, but I just couldn't resist the cover for Ashley Bell. The story sounds incredibly interesting too. It's about a woman who has a year to live, but ends up surviving. Another woman convinces her that she lived so she could save a girl named Ashley Bell and it's all about her trying to find her.
What We Saw by Aaron Hartzler • Fangirl by Rainbow Rowell • The Drowning of Arhtur Braxton by Caroline Smailes
I was so excited when I saw that Big W had a copy of What We Saw. I know this will be a hard read since it's about rape and rape culture and is based on an actual real life case. Everyone has said that it's extremely important though so in that sense I can't wait to read it. Not sure how I feel about this cover, but eh. What can you do?
I'm sure some of you will be super pleased that I picked up Fangirl, haha. I've never read a Rainbow Rowell book despite having Eleanor & Park on my shelf for a couple of years. I figured this would be a good place to start and I'm not sure why I haven't read this yet because I feel like I'll be able to relate really well to Cath. This was the fanart edition too which is cool.
The Drowning of Arthur Braxton was the book I got when I purchased my "Blind Date With A Book" book from Elizabeth's Bookshop. I made an entire post about my experience! It's an urban fairy tale that has magical realism elements. It's about a boy who hides out in an abandoned building and then one day he finds a naked woman swimming in the pool and nothing will ever be the same, apparently. Again, it sounds all kinds of vague and intriguing. Vague summaries = My weakness.
Angus & Robertson Haul
Angus & Robertson is my favourite online bookstore. The prices are all really reasonable for an Australian based store. I have to wait a week max which is great for my impatience. This sounds like a sponsor, which HAHA! I FRICKEN WISH! That would be amazing.
These Broken Stars (Starbound #1) by Amie Kaufman & Meagan Spooner • The Young Elites (The Young Elites #1) by Marie Lue • Aristotle and Dante Discover the Secrets of the Universe (Aristotle and Dante #1) by Benjamin Alire Sáenz • A Darker Shade of Magic (Shades of Magic #1) by V.E. Schwab
I'm really excited to see Amie's writing in These Broken Stars because of how much I love that other book she wrote. Illuminae or something? I don't think I've really talked about it before 😎 I don't know how I'll feel about the romance, but I like the idea of the two main characters being stranded alone on planet and then finding out they're actually not alone.
I've been wanting to read The Young Elites FOREVER. I'm so weak for stories about people with powers. It sounds a bit like The Darkest Minds so fingers crossed I love it as much.
I WILL READ ARI AND DANTE SOON I PROMISE. Honestly, I give you all permission to yell aggressively at me if I don't read this month. I have heard NOTHING but wonderful things about this book.
I finished A Darker Shader of Magic a couple of days ago and it is EVERYTHING. You can kinda see some of the tabs I made in the photo, haha. I hope I can get a review up soon! The characters have quickly become some of my all time favourites.
Anticipated ebooks Haul
The Girls is a take on the Manson cult and I'm so fascinated by the psychology behind the dynamics in them. I live for YA thrillers so I'm really excited for With Malice. Victoria is my queen right now and I've heard nothing but amazing things already for This Savage Song and all the concept and elements in it.
Non-Bookish Haul
"Lauren, why the hell do you have a Kylo Ren plushie?"
I also bought a Suicide Squad edition Harley Quinn Funko Pop, an Adventure Time Gunther mug to keep my bookmarks in and a mini Finding Dory Becky figurine. I saw Finding Dory the other day and I cried about 5 times. Becky was incredible so when I saw the figurine in Target I was like YES PLEASE THANK YOU.
---
So those were all the books I bought this month! I'd love to hear your thoughts on any of them! Feel free to link me to your own Wrap Up or Haul posts so I can drop by.
I hope you all had an amazing June and an even better July xx