Super quick mini announcement: I made a separate Instagram account for all my bookish things! It's here if you'd like to give it a follow! Just a warning that my photography skills are non-existent, but still 😂
I have no idea why I put these comics off for so long! I was seriously missing out on something wonderful.
Title: Gotham Academy, Volume 1 – Welcome to Gotham Academy
Writers: Becky Cloonan & Brenden Fletcher
Illustrator: Karl Kerschl
Genre: Comic, Young Adult, Mystery/Sci-Fi
Pages: 160
Publisher: DC Comics
Date Published: June 17 2015
Buy: Amazon // Book Depository // Comixology
Follow Becky Cloonan on Twitter // Follow Brenden Fletcher on Twitter // Follow Karl Kerschl on Twitter

Welcome to Gotham Academy, the most prestigious school in Gotham City. Only the best and brightest students may enter its halls, study in its classrooms, explore its secret passages, summon its terrifying spirits…

Okay, so Gotham Academy isn't like other schools. But Olive Silverlock isn't like other students. After a mysterious incident over summer break, she's back at school with a bad case of amnesia, an even worse attitude…and an unexplained fear of bats.

Olive's supposed to show new student Maps Mizoguchi the ropes. Problem: Maps is the kid sister of Kyle, Olive's ex. Then there's the ghost haunting the campus…and the secret society conducting bizarre rituals.

Can Olive and Maps ace the biggest challenge of their lives? Or are they about to get schooled?

Collects Gotham Academy #1-6
Gotham Academy is a series that centers around a group of misfit kids that attend it. There is nothing I love more than a bunch of different characters being forced to work together to figure things out. I love it even more when those characters pretend to hate each other, but you can tell that's not the case. Gotham Academy has all of this and more.
Olive is such an interesting and complex main character. She's a bit of an unreliable narrator too, which I LOVE. You learn about her past along with her which makes you feel a lot more immersed in the storyline. Her relationship with Maps and Pomeline is honestly my favourite thing ever. With Maps it's great because I love seeing positive female friendships and Olive is like a big sister to her. Olive and Pomeline don't get off on the best foot, but you can see that there is definitely an understanding and appreciation between them and I love seeing their friendship grow – they're definitely my favourite characters. Maps is hilarious too. She's fearless, but not in an overbearing way.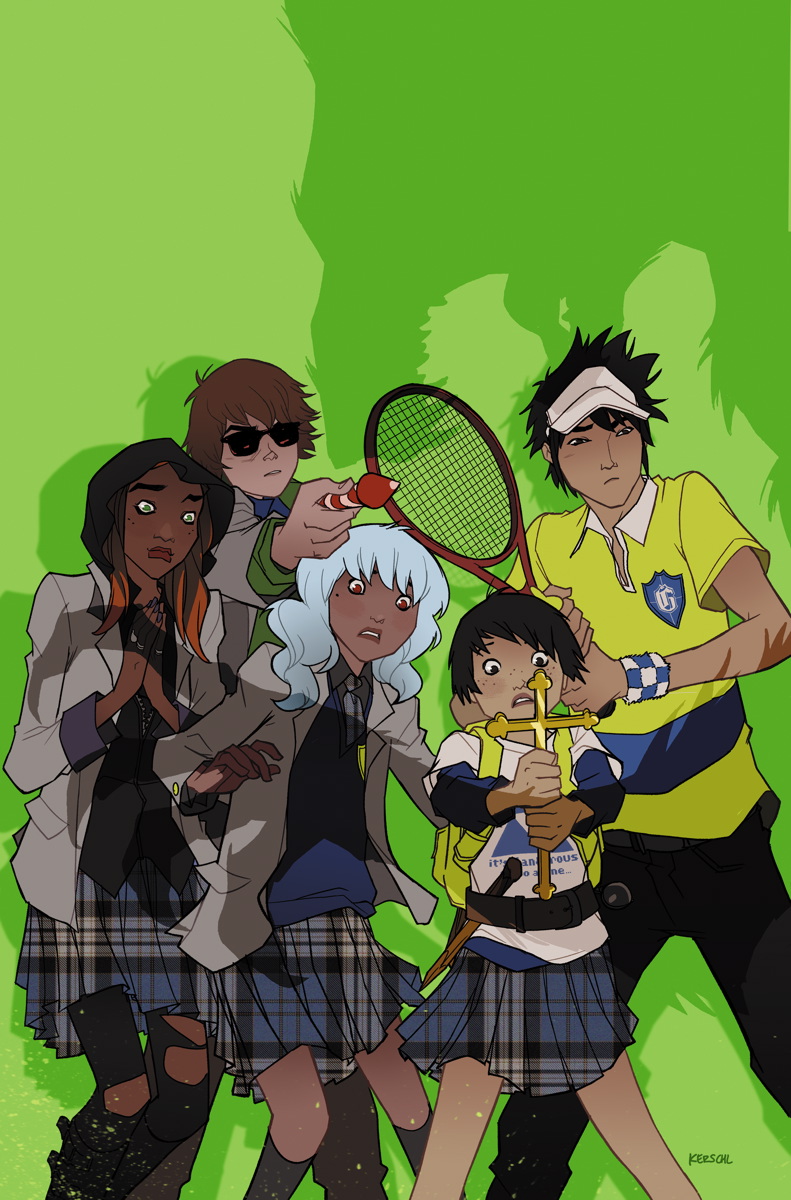 I was so fascinated by all the mysteries of Gotham Academy. It is such a strange and alluring place! I wished I was right there with the group exploring the halls and trying to figure out the mystery and uncover all its secrets. The setting felt so alive that I almost thought I was a student. There are definitely sci-fi elements to the story, but at the heart of it – it's a mystery. It's almost like a Gothic-esque Scooby Doo.
The art is stunning. Literally stunning. I was OBSESSED with it. I couldn't get enough of it. The writing is brilliant too. Don't be put off by the Gotham connection either. I am pretty brand new to DC and I know NOTHING about Batman and I was able to understand everything fine. This isn't a Batman comic. It's a comic about friendship and mysteries with a few fun guest appearances. Definitely the perfect place for a new comic reader to start! I'm so glad I decided to read it.
MY RATING: ★★★★★
---
Title: Lumberjanes, Vol 1 – Beware the Kitten Holy
Writers: Noelle Stevenson & Grace Ellis
Illustrators: Brooke A. Allen & Maarta Laiho
Genre: Comic, Young Adult, Adventure/Fantasy
Publisher: Boom Studio
Date Published: April 7th 2015
Buy:Amazon // Book Depository // Comixology
Follow Noelle Stevenson on Twitter // Follow Grace Ellis on Twitter // Follow Brooke A. Allen on Twitter // Follow Maarta Laiho on Twitter

FRIENDSHIP TO THE MAX!

At Miss Qiunzilla Thiskwin Penniquiqul Thistle Crumpet's camp for hard-core lady-types, things are not what they seem. Three-eyed foxes. Secret caves. Anagrams. Luckily, Jo, April, Mal, Molly, and Ripley are five rad, butt-kicking best pals determined to have an awesome summer together… And they're not gonna let a magical quest or an array of supernatural critters get in their way! The mystery keeps getting bigger, and it all begins here.

Collects Lumberjanes No. 1-4.
Where do I even begin to explain Lumberjanes? I feel like the tagline in the blurb sums it up perfectly: FRIENDSHIP TO THE MAX! because ultimately that's what this comic is about. And it's beautiful. To be fair this is more of a gush fest than a review. I'm not sorry.
Lumberjanes is about a group of girls (Jo, April, Mal, Molly, and Ripley) who are attending a Summer Camp and really weird things start happening. It's all very Gravity Falls-esque and I love it. I have to admit that when I read the first singular issue of Lumberjanes a while back I could not get into it and I rate that single issue 2 stars and now I want to go back in time and yell at past!me because what even?
If you're looking for a comic series that is gritty and intense then this isn't it. However, if you're looking for a series that is so much fun you will literally not be able to stop smiling, has INCREDIBLE POSITIVE FEMALE FRIENDSHIPS AS THE CORE OF THE STORY, no unnecessary angst or drama featuring a bunch of weird, mystical being thrown in – then this is perfect! I think everyone needs a series like Lumberjanes in their life. Sure, the darker stuff is great, but man is it refreshing being able to escape into this world.
The girls are all so incredibly diverse and badass. Sometimes it's like writers think having a strong female character means they can't have flaws or weakness or emotions and the girls in Lumberjanes are anything but two dimensional. Each character has her own personality and is so incredibly well developed. And again I want to mention THE DIVERSITY. Look at how unique an beautiful all these girls are. They break all stereotypes and social norms.
I feel like positive female friendships are something that are seriously lacking in the world, especially in comics. I love that it's the focus of this series so much. These girls all genuinely love each other. They are truly best friends. It's wonderful. I also love their relationship with Jen who is a camp counsellor. It develops even more in Volume 2 which made me super happy.  
Another one of my favourite things about this series is how casual all the girls act towards all the weird things that are going on around them. They are so incredibly chill. There's no time wasted about whether they believe what's happening you just jump straight into the action! And there is a lot of action and adventure in this comic despite it's lightheartedness.
Some people might find this series weird, but it's one of the things that made me fall in love with it. I've never read a comic like it. I'm completely obsessed with the series now and I am so, so glad I decided to give it another chance! This is also a perfect comic to start with if you're new! I can't recommend it enough. You need to experience this magical and crazy comic for yourself. And of course it goes without saying that the writing and artwork are both stunning and compliment each other so well!
MY RATING: ★★★★★
---
If you've read or are planning to read these comics I'd love to hear your thoughts!
I hope you're all having a fantastic day xx
P.S. Sorry for the influx of comic/graphic novel reviews. I've just been feeling so exhausted lately I haven't wanted to do anything too heavy. I'll have a The Raven Cycle discussion/review up soon though and there'll definitely be a review for The Hidden Oracle once I've finished it!