Every time someone nominates me for an Award I feel so overwhelmed. I love you guys! I was nominated for the The Real Neat Blog Award by Luna @ Luni Reads and Cath @ Trust in the Words. Thanks so much! Be sure to check out their posts and give them a follow ♥
RULES:

Thank and link the blogger that nominated you.
Answer the 7 questions that the nomination has provided you.
Create 7 questions for your nominees.
Nominate 7 other bloggers.

I'm not sure who made the award graphic. I did a lot of Googling and came up empty so if you know feel free to tell me 🙂
Luna's Questions:
What was the last book you finished?
Blue Lily, Lily Blue by Maggie Stiefvater and
I can't believe some people had to wait like 2 years with THAT ending. I don't know how to do anything right now.
Pasta or Pizza?
This is cruel. Vegetarian pizza is my life, but I think I'm going to have to go with pasta because there's just so many things you can do with it and my parents make the most incredible vegetarian lasagna which is my favourite thing ever and wouldn't be possible without pasta.
Gold or silver?
SILVER! I'm not even sure why? It's just always what I've been drawn to. I think it suits me better, but who knows.
What is your favourite book?
What is the beat place you have travelled to?
Sadly, I haven't travelled anywhere 😦 My dream is to one day go to London though!
What is your favourite TV show?
PARKS AND RECREATION!!!! I miss it so much. April Ludgate is my everything. We are the same person.
Honestly if that scene doesn't convince you to watch the show then idek.
What is your favourite book to movie adaptation?
Super cliche, but I'm gonna have to go with Harry Potter. Those movies are as magical to me as the books were. I know they left out some things, but the stuff they did was so perfect and it was incredible seeing these books come to life the exact way I'd pictured them.
---
Cath's Questions
If you could read just one classic for the rest of your life, which one would you read?
I haven't read many classics but even if I had I would definitely still chose Alice's Adventures in Wonderland by Lewis Carroll because I love it so much.
Which is your spirit animal?
Sloths 100%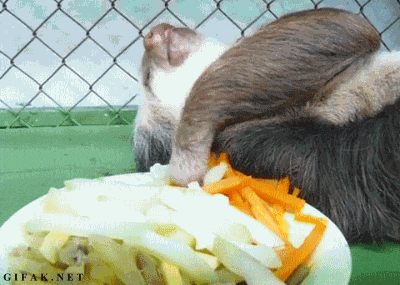 If I watch videos of them I start tearing up. I almost did finding a GIF to use for this post. They're so beautiful. I love them so, so much.
Would you rather have green skin and thorns all over your arms or have egg eyes and nails like claws?
Haha, this is an interesting one! Um, I don't know how I feel about thorns or egg eyes. Can I have green skin and claws? No? Fine. Probably the egg eyes and claws because having claws would be useful at times. Also if my arms were covered in thorns I wouldn't be able to hug my dog and that would make me sad.
Which book would you recommend to your worst enemy?
Uhhh. Something incredibly long and boring?
Favorite winter movie?
Winter movies are weird in Australia because there's all this snow and people rugged up in warm clothes and I'm dying in 46C/114F heat. I love The Santa Clause movies though, is that a winter movie?
What are you currently reading? Are you liking it?
I just finished Blue Lily, Lily Blue and am EXHAUSTED. Two books in three days! That is HUGE for me. I need a little time to try and control my emotions and remember how to breathe before I pick up The Raven King. I'm probably gonna die whilst reading that so just in case this is my last post: this blogging journey has been super fun and I love you all! I'm kidding about the dying thing. Maybe. The blogging journey being fun and me loving you all is fact.
Do you watch TV/movies? What are you currently watching/last watched?
Not really a movie watcher. I get too distracted. I probably only watch 4 or 5 movies a year and when I do they're usually Horrors or Thrillers. I used to be huge on TV shows, but haven't watched anything for months because I'm in a TV slump. The last movie I watched was so embarrassing I'm not going to mention it, so the one before that was Unfriended, which I surprisingly enjoyed. I'm hoping to see Captain America: Civil War soon. The last TV show I watched like 2 moths ago lmao was Shadowhunters. I need to try and binge watch the rest of the season on Netflix.
---
My Nominations & Questions:
If you don't want to do this for whatever reason then it's all chill! Please don't feel like you have to ♥ Sorry if you've already been tagged! Also, sorry for the standard questions. I'm not very creative today (or ever 😂)
Yasaman @ Following Muses • Beth @ Reading Every Night • Madeline @ The SF Bookshelf • Fatima @ Noteable Pad • Fadwa @ Word Wonders
1) What was the last song you listened to?
2) The world is ending and you only have time to read one more book, what do you choose?
3) Your current phone/computer background?
4) What's your Star Sign? Do you believe in Astrology?
5) Besides Harry Potter, what book world would you most like to live in?
6) Zombies are attacking and you get to chose 3 or 4 fictional (books/movies/tv) characters to help you fight. Who do you pick?
7) Do you have any pets? Tell me about them! Photos encouraged if you have any so I can cry over the cuteness. Otherwise if you could have any pet in the world that you wanted, what would it be?
---
I've also culminated a collection of 3 Days, 3 Quotes tags so I decided to combine them with some other tags and awards! So I'm not spamming my blog with a bunch of things, haha.
I was tagged by icebreaker694. Thank you so much!
Rules:

Thank the person who nominated you
Post a quote for 3 consequetive days
Nominate 3 new bloggers each day
Since I finished The Dream Thieves recently and highlighted like 50 things I'm using a quote from that! Don't worry it's not spoiler-y if you haven't read the book yet 🙂
"Have you ever felt like there is something different about you? Like there is something more?"

Blue's heart jumped inside her again. "Yes!"

Calla removed the keys to the Fox Way car from her pocket. "Good. Everyone should feel that way."
I loved it so much and I think it's important that everyone feels this way at least once during some point in their life.
Hope you're all having a lovely day xx