Some more mini reviews of books that I'm not supposed to be reading! There's a bunch of classics because I'm really trying to get into them more and because of the Classics Challenge that I'm participating in. I should hopefully have some full reviews up of the books I'm supposed to be reading soon.
If you've read any of these I'd love to hear your thoughts!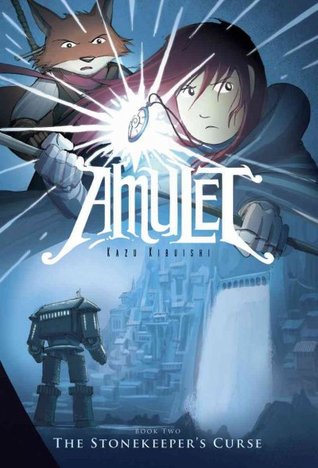 Title: Amulet, Vol 2: The Stonekeeper's Curse
Author/Illustrator: Kazu Kibuishi
Publisher: Graphix – Scholastic
Published: September 1st 2009
Pages: 224
Buy:Amazon
Follow Kazu Kibuishi on Twitter


In this thrilling sequel to AMULET #1: THE STONEKEEPER, Emily and her brother Navin head for Kanalis, a beautiful and mysterious city of waterfalls, where they hope to find the antidote for the poison that felled their mother. That cure lies in the eggs of a giant serpent atop Demon's Head Mountain, but the kids' archenemy, Trellis, is headed for the peak, too. A battle that will engulf all of Kanalis is looming. It's up to Em to triumph over evil while controlling the amulet's power . . . without losing herself!
Okay so whenever I love the first book in a series I get really nervous reading the following books because I always have this fear that I'm going to be disappointed. I loved Volume 1 of Amulet so much I was worried Volume 2 wouldn't be able to live up to it, but it turns out I had absolutely nothing to worry about. In fact, I think I liked this volume even more. I was a bit worried at the start because it was a little slow, but by the end of the book I was an emotional mess. I cried, again. THANKS FOR NOTHING KAZU. It was really interesting learning more about the Amulet since we didn't really know much in the first volume. I also loved seeing more of Trellis and his character development was AMAZING. I love good character development so much. Once again, Emily was incredibly strong and brave and human. I love when strong characters also display emotions. This might be targeted towards Middle Graders, but honestly it's a graphic novel that EVERYONE can enjoy. Like I said before Amulet is a fantastic starting point if you've never read graphic novels before, but want to give it ago. It has just the right amount of action without being too overbearing and doesn't lose focus on the actual characters. Like always the art was stunning and expressed so much. I can not wait to read Volume 3! This series is one of the best things to ever happen to me.
MY RATING: ★★★★★
---
Title: A Haunted House
Author: Virginia Woolf
Published: 1921
Publisher: Hogarth Press
Buy: University of Adelaide Library (Free)

This very short story — barely over 700 words — showcases Woolf's signature modernist style. Unlike Woolf's other works, the story is a fantasy. In "A Haunted House," a ghost couple searches for buried treasure in the house of a living couple. Mysterious in topic and writing style, the story takes on the power of love.  
I just wanted a quick and short classic to read and I stumbled across this. I really liked the premise and appreciated the symbolism Virgina was using and the overall meaning, which is why I'm giving it 3 stars instead of 2, but it was really underwhelming. It just didn't have any kind of impact on me. I know it was short, but still I've read other short stories that have had a huge impact on me. Even if it is leaving me confused at least it did something. This did… nothing. I really thought I was going to enjoy it, but I didn't. I can definitely see the appeal though and maybe if you're more into romance than I am you would enjoy this a lot more than I did.
MY RATING: ★★★☆☆
---
Title: The Story of an Hour
Author: Kate Chopin
Publisher: Vogue
Published: 1894
Pages: 4
Buy: Flash Fiction (Free)

Mrs. Louise Mallard, afflicted with a heart condition, reflects on the death of her husband from the safety of her locked room. Originally published in Vogue magazine, "The Story of an Hour" was retitled as "The Dream of an Hour," when it was published amid much controversy under its new title a year later in St. Louis Life. "The Story of an Hour" was adapted to film in The Joy That Kills by director Tina Rathbone, which was part of a PBS anthology called American Playhouse.
Like I mentioned in my review for A Haunted House I just wanted some quick and easy classics to read because 1) I have no attention span and 2) I'm so brand new to them I don't want to scare myself by starting with something too full on.
Unlike A Haunted House, The Story of an Hour really impacted me. I love the message that Kate was portraying. I can also imagine it would have been a tad controversial for it's time considering how valued and respected marriage was and I appreciate any female authors who break the boundaries and tell a different side of the story. Even today, society deems marriage as a way for our lives to be "complete" and it was nice seeing something breaking that mold since I have no desire to get married any time soon or at all.
It was a really refreshing change having a woman – instead of a man – admit that she felt trapped by her marriage. A man wanting to be free is such a normal thing, no one even questions it. It's okay for men to make jokes about how "their freedom is over" but it's not nearly as acceptable for women to speak out about the same things.
Louise's condition being a heart ailment was some incredible symbolism. For such a short story it was a roller coaster. The ending confused me at first because it felt kind of like it was going against everything else in the text, which was really empowering and uplifting, but then I realised it was a really hard-hitting way of showing how oppressed some women can be in not only their marriages, but in life.
I'm definitely going to be reading more of Kate's works!
MY RATING: ★★★★☆
---
Title: A Rose for Emily
Author: William Faulkner
Publisher: The Forum
Published: 1930
Pages: 5
Buy: MHS Resources (Free)

Faulkner's most famous, most popular, and most anthologized short story, "A Rose for Emily" evokes the terms Southern gothic and grotesque, two types of literature in which the general tone is one of gloom, terror, and understated violence.
I wanted to read this because it inspired a My Chemical Romance song "To The End" and I can definitely see why. It hasn't been my favourite classic I've read so far on my "Lauren attempts to read classics" adventure, but I did enjoy it. It was quite creepy and the imagery was great. The message about not willing to accept change is very strong and hard hitting. As someone who hates change it resounded with me quite a bit. I do not want to end up like Miss Emily! I saw some people say the end shocked them, but I predicted it from the beginning? Maybe I've read too many horrors. I can imagine and appreciate what that kind of ending would have done and meant in the original year of its publication though which is why I'm giving this 4 stars. Also, sidenote: how GORGEOUS is this cover art?
MY RATING: ★★★★☆