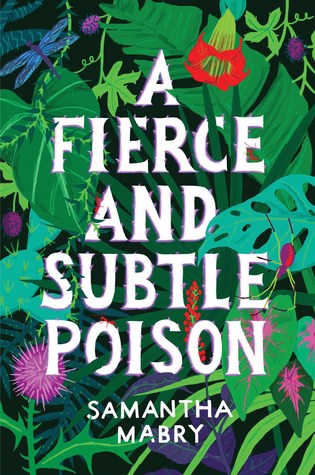 Genre: Fantasy / Magical Realism
Date Published: April 12 2016
Publisher: Algonquin Young Readers
Pages: 288
Buy: Amazon // Book Depository
Follow Samantha Mabry on Twitter

Everyone knows the legends about the cursed girl–Isabel, the one the señoras whisper about. They say she has green skin and grass for hair, and she feeds on the poisonous plants that fill her family's Caribbean island garden. Some say she can grant wishes; some say her touch can kill.

Seventeen-year-old Lucas lives on the mainland most of the year but spends summers with his hotel-developer father in Puerto Rico. He's grown up hearing stories about the cursed girl, and he wants to believe in Isabel and her magic. When letters from Isabel begin mysteriously appearing in his room the same day his new girlfriend disappears, Lucas turns to Isabel for answers–and finds himself lured into her strange and enchanted world. But time is running out for the girl filled with poison, and the more entangled Lucas becomes with Isabel, the less certain he is of escaping with his own life.
I was provided an ARC of this book via Netgalley and the Publishers in exchange for an honest review.
My poor attempt at a Netgalley ban ended the moment that I saw A Fierce and Subtle Poison on there. I had somehow skipped over it before, but as soon as I saw it a couple of nights ago I hit request straight away. THAT COVER, YOU GUYS. LOOK AT ITS BEAUTY. I have to admit that is the first thing that caught my attention with this book when I'd heard about it on BookTube. The description definitely kept it though. It sounded like a crazy mixture of Poison Ivy, Mara Dyer and The Raven Cycle and I knew I HAD to read it. I was so happy when my request got approved. I may have squealed. I wasn't planning on reading it straight away because there's other books I should be finishing, but like always when I get a new book I read the first few chapters and then the next thing I knew I had finished the book? I almost forgot to eat and sleep whilst reading this. I would have finished it one sitting if I didn't need either of those two things. It turns out this book was a mixture of what I mentioned above and so so so much more. It went beyond and above all my expectations.
I finished this book a couple of hours ago and I've been sitting here trying to figure out how to write a review. I don't feel like anything I could say could do this justice. It's one of those books that you need to experience for yourself. I'm going to try and put my thoughts into some sentences that make sense though, okay, so bear with me.
Lucas has lived on the island of San Juan with his dad for pretty much his entire life, his mother left when he was only young so it's just been the two of them. Lucas' dad is a contractor and no one on the island really likes Lucas or his dad because they think they're ruining everything. Lucas' dad has torn down and built up a lot of things. For years the old women on the island have told Lucas a story about a house at the end of the street. It's said that a scientist neglected his wife to the point where she was forced to madness, fled and placed a curse on him. There are stories of the woman having a child with green skin and grass for hair who is a witch that can grant wishes. When Lucas is older he doesn't really think much about the supposed cursed girl because there are real girls. Some of these real girls are going missing though and no one knows what's happened to them. When Lucas' new girlfriend, Marisol, goes missing he's determined to find her. He then discovers that the cursed girl, Isabel, is real, but she doesn't have green skin or grass for hair and his life is going to become entwined with hers.
I really enjoyed Lucas' as a main character. He was a bit of an asshole at times, but unlike a lot of male characters in YA he was fully aware that he wasn't the nicest guy. He had flaws, but he didn't try to deny them and throughout the book he really tried to become a better person. Lucas' dad said a lot of shitty things and when you consider he raised Lucas his behaviour makes a lot more sense. He really is trying to break away from that though. I also enjoyed that Isabel called him out on his behaviour.
I loved the diversity in this book. Samantha Mabry fully acknowledges Lucas and his dad's privileges in being white and it's not like the Puerto Rican setting is just a "background". It is fully and richly involved in the story. I loved reading about all the legends and mythology. It was so interesting and it made me want to read up more about it. Samantha even kept bits and pieces of Spanish in the book and it really inspired me to get back to trying to learn it. The way she described everything was so incredibly magical. It felt like I was actually there in San Juan. The setting honestly felt like a character as much as Isabel and Lucas did and I'll probably say this word too much in this review, but it was just SO BEAUTIFUL. It felt so alive.
I don't have a lot of experience with magical realism and in fact that whole genre still confuses me a little, but this had a lot of the same vibes as The Raven Cycle series and We Were Liars. It was written in a such a way that made me keep hanging onto every word. A story about a girl who needs poisonous plants to survive and can kill people with her breath and touch sounds super fantastical, but Samantha made it sound so incredibly real. This honestly felt like a really amazing thriller contemporary at times and I forgot that I was readying a "Fantasy".
Isabel was such an incredible character too. She was so complex and layered. You feel so incredibly conflicted when reading this because Isabel does some questionable things to stay alive and you simultaneously feel sorry for her because she didn't ask for her curse, but you can also understand Lucas' anger towards her. Just like Lucas though she acknowledges her wrongdoings and decides to do everything she can to make things right. It would have been SO easy to make Isabel into the green skinned monster the legends made her out to be, but instead Samantha chose to make her so incredibly human and it was brilliant.
The only tiny negative I had with this book was that Lucas' relationship with both Marisol and Isabel seemed a bit instalove-y at times and whilst that's one of my least favourite tropes, this book was so wonderful that I didn't even care all that much. The relationships did seem genuine despite how quickly they formed. I was really intrigued by the dynamic that Lucas and Isabel shared. They played really well off of each other. I would have liked to learn a little more about Lucas' mother too because they way she left hit close to home, but I understand that wasn't really the focus of this story. I love that this is a standalone. It feels like they rarely exist in YA anymore. It does have an incredibly open ending too, but I actually really loved it. It suited the mystical tone of the book. Lucas' story is going to become a legend just like the ones the old women told him. It's going to make this book stay with me forever.
This review may seem shorter than normal because 1) It's difficult to say too much more without giving away the entire plot of the book and I do not want to do that because I want everyone to go on this incredible journey like I did and 2) I honestly don't know how to do it justice. This book is so beautiful, intriguing and captivating. It'll make you question everything and you'll feel so many conflicting emotions. It's a quick read, but it feels like you've been living in this world forever. I guarantee once you pick it up you will not be able to put it down. It's hard to believe that a book as rich and beautiful as this is a debut novel, but this is in fact Samantha's first book! I can not wait to get my hands on whatever she writes next. Do yourself a favour and pick this one up, honestly. Just do it.
 MY RATING: ★★★★★