"Waiting On" Wednesday is a weekly event, hosted at Breaking the Spine, that spotlights upcoming releases that we're eagerly anticipating.
Here's my Waiting on Wednesday choice!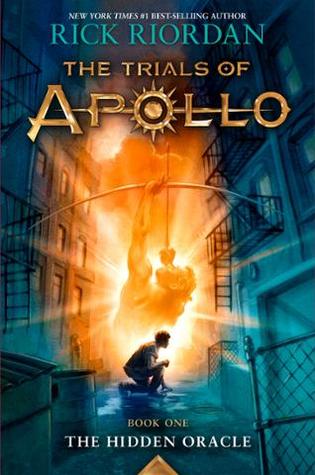 The Hidden Oracle (The Trials of Apollo #1) by Rick Riordan
Release Date: May 3rd
How do you punish an immortal?

By making him human.

After angering his father Zeus, the god Apollo is cast down from Olympus. Weak and disorientated, he lands in New York City as a regular teenage boy. Now, without his godly powers, the four-thousand-year-old deity must learn to survive in the modern world until he can somehow find a way to regain Zeus's favour.

But Apollo has many enemies – gods, monsters and mortals who would love to see the former Olympian permanently destroyed. Apollo needs help, and he can think of only one place to go . . . an enclave of modern demigods known as Camp Half-Blood.
I AM SO EXCITED TO READ THIS
Rick Riordan is one of my favourite authors and the Percy Jackson series means the absolute world to me. I loved Magnus Chase and all the Norse mythology, but I am SOOOO excited to go back to the world of Camp Half-Blood. Rick's also said that all the main characters from PJO and HOO will feature throughout the series and I can not wait. I have missed Percy so much! There's probably gonna be a bunch of awesome new characters, too. ALSO APOLLO IS ONE OF MY FAVOURITE GODS. This is going to be so good. Imagine all the Apollo cabin campers!? How fricken weird would it be to see your dad as a teenager? I need it to be May RIGHT NOW!!!! I know this book is going to be hilarious and incredible and probably make me cry at some point because Rick is cruel.
What book are you most excited  for? Link me to your Waiting on Wednesday post if you have one!!