I really wanted to do proper reviews for all these books because I loved them, but unfortunately with all the books I'm currently supposed to be reading and reviewing I just don't have the time. I still wanted to talk about them though so I decided to do a mini review for all of them and put them in one post!
Title: The Raven
Author: Edgar Allen Poe
Genre: Classics
Buy: Amazon // Book Depository // Project Gutenberg (Free)
Rating: ★★★★☆

Edgar Allan Poe's The Raven delves into the hidden horrors of the human psyche. Originally published in 1845, the poem is narrated by a melancholy scholar brooding over Lenore, a woman he loved who is now lost to him. One bleak December at midnight, a raven with fiery eyes visits the scholar and perches above his chamber door. Struggling to understand the meaning of the word his winged visitant repeats "Nevermore!?" — the narrator descends by stages into madness.
Continuing with my adventure into classics since I never had to read them at school. I had to read this twice and use Google to help me understand what was happening, but once I figured it out I appreciated the story a whole lot more. The setting is so creepy and perfect. I connected with the narrator too regarding his hopelessness. He knew all the Raven could say was "Nevermore" but he still kept asking questions that he knew getting that response would just bring him pain. I know from experience that mindframe is a very dark place. It's very haunting and heartbreaking. I'm excited to read more of Poe's work! I've also decided to take part in the 2016 Classics Challenge which is hosted by Pretty Books. More information here.
Title: Mockingbird (2016-) #1
Author: Chelsea Cain (Writer), Joëlle Jones (Illustrator) & Kate Niemczyk (Illustrator)
Genre: Comics & Graphic Novels
Published: March 9th 2016 by Marvel
Pages: 25
Buy: Amazon // Comixology
Follow Chelsea Cain on Twitter // Follow Joëlle Jones on Twitter 
Rating: ★★★★★

Because you demanded it! Now in her own ongoing series! Bobbi Morse is Mockingbird, S.H.I.E.L.D.'s most versatile, most in-demand agent! But a string of missions gone wrong indicate that something strange is lurking within S.H.I.E.L.D.'s own medical and recovery network. How far will Mockingbird have to go in order to solve this puzzle box and get to the truth? Bestselling author Chelsea Cain teams with newcomer Kate Niemczyk.
THIS WAS SO GREAT!!! This is the first time I've ever read anything where Mockingbird is the main character, so I wasn't sure how I'd go but I loved EVERYTHING about it! The story and art were both so much fun. I can not wait to read more in the series!! It's fast paced and action packed from the first page and I love how we're finding out what happens along the way. Definitely recommend it if you're a fan of the Spider-Woman, Ms Marvel, Silk and Hellcat comics. Or just cool female superheroes.
Title: Sparks Rise (The Darkest Mins #2.5)
Author: Alexandra Bracken
Genre: Young Adult, Dystopia
Published: September 2nd 2014 by Disney Hyperion
Pages: 110
Buy: Amazon 
Follow Alexandra Bracken on Twitter
Rating: ★★★★☆

*** Minor spoilers if you've never read The Darkest Minds series ***

Sam didn't think things could get worse at Thurmond rehabilitation camp. Then the Reds arrive. Everyone assumed the kids with firepower had been killed years ago. Instead they were taken away, brainwashed, and returned as terrifyingly effective guards. To her horror, Sam recognizes one of them: Lucas, the one spark of light in Sam's dark childhood. Lucas has a deadly secret–he beat the brutal training that turned his fellow Reds into mindless drones. When Sam defends herself against an attack by a vile PSF guard and faces a harrowing punishment, Lucas must risk his everything to save her.
Sparks Rise is a novella from The Darkest Minds series that connects Never Fade to In The Afterlight. Wow. This was dark. I did struggle a little to read this – not because of the content, although it was really unsettling, there was just something about it that I couldn't fully connect with. I think it was my attention span though and because I kept subconsciously comparing it to In Time which was absolute perfection. I did like Sam and Lucas, but I wasn't invested in them. I felt so sad and angry about the Tildon situation because I feel like it mirrors real life devastatingly accurately, especially men in position of power and the victim blaming. I feel like this is a 3.5/5 for me and I was tossing up whether to go with a 3 or 4 star rating, but I went with 4 because I did feel a lot of intense emotions with this despite the disconnection I had and because it was interesting to see what was going down after Ruby left. I also read Never Fade (The Darkest Minds #2) and it was AMAZING. I cried a bucketload of tears at the end.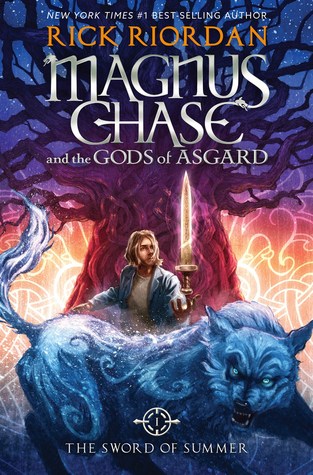 Title: The Sword of Summer (Magnus Chase and the Gods of Asgard #1)
Author: Rick Riordan
Genre: Young Adult, Fantasy
Published: October 6th 2015 by Disney Hyperion
Pages: 499
Buy: Amazon // Book Depository
Follow Rick Riordan on Twitter
Rating: ★★★★☆

Magnus Chase has always been a troubled kid. Since his mother's mysterious death, he's lived alone on the streets of Boston, surviving by his wits, keeping one step ahead of the police and the truant officers.

One day, he's tracked down by a man he's never met—a man his mother claimed was dangerous. The man tells him an impossible secret: Magnus is the son of a Norse god.

The Viking myths are true. The gods of Asgard are preparing for war. Trolls, giants and worse monsters are stirring for doomsday. To prevent Ragnarok, Magnus must search the Nine Worlds for a weapon that has been lost for thousands of years.

When an attack by fire giants forces him to choose between his own safety and the lives of hundreds of innocents, Magnus makes a fatal decision.

Sometimes, the only way to start a new life is to die . . .
I really wanted to post a full review of this because Rick Riordan is one of my favourite authors, but I just don't have the time. Definitely read this is you're still, like me, suffering a Percy Jackson hangover. Magnus, Sam, Blitzen and Hearthstone are so great and I was cheering them on the whole way. I loved their dynamic and relationship with each other. They all had flaws, but all tried their hardest to be good people. This book made me laugh a lot there were so many hilarious moments and of course, in Rick Riordan fashion, caused me pain. I saw some people were disappointed by this book because of the lack of differences between Percy and Magnus, but I thought they both had their own personalities. I don't know, maybe it's because Percy is one of my favourite characters ever and I'm not ready to let him go or because I'm a sucker for mythology – but I adored this book. I can not wait to read the second one! I would have liked to have seen more interaction between Magnus and Annabeth, because what we got was so good and I needed more! I also loved all the subtle references to the Percy Jackson series so much.
If you've read any of these books I'd love to hear your thoughts!