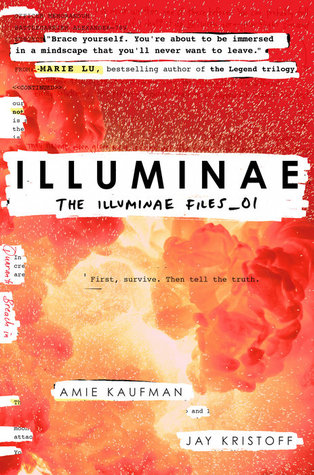 Genre: Young Adult, Sci-Fi
Date Published: October 20th 2015
Publisher: Knopf Books for Young Readers
Pages: 599
Buy: Amazon // Book Depository
Follow Amie Kaufman on Twitter // Follow Jay Kristoff on Twitter

This morning, Kady thought breaking up with Ezra was the hardest thing she'd have to do.
This afternoon, her planet was invaded.
The year is 2575, and two rival megacorporations are at war over a planet that's little more than an ice-covered speck at the edge of the universe. Too bad nobody thought to warn the people living on it. With enemy fire raining down on them, Kady and Ezra—who are barely even talking to each other—are forced to fight their way onto an evacuating fleet, with an enemy warship in hot pursuit.
But their problems are just getting started. A deadly plague has broken out and is mutating, with terrifying results; the fleet's AI, which should be protecting them, may actually be their enemy; and nobody in charge will say what's really going on. As Kady hacks into a tangled web of data to find the truth, it's clear only one person can help her bring it all to light: the ex-boyfriend she swore she'd never speak to again.
Told through a fascinating dossier of hacked documents—including emails, schematics, military files, IMs, medical reports, interviews, and more—Illuminae is the first book in a heart-stopping, high-octane trilogy about lives interrupted, the price of truth, and the courage of everyday heroes.
To be honest I don't even know where to start with this review. I still feel like my mind is blown from this book and I finished it over a week ago. I feel like saying wow repeatedly still doesn't do it justice, but just wow. WOW. THIS BOOK! It was amazing, captivating, breathtaking, gripping, phenomenal. I could continue with the list of adjectives, but I'll stop for your sake.
Illuminae is quite possibly one of the best books I've ever read. It not only got me out of my almost year long reading slump, but is also one of the most creative, beautiful and unique books I have ever seen. I know it's not the first book to do an IM/Email/Report set up, but it definitely did it the best. Reading the blurb of this book may make it seem like a typical YA science fiction, but I promise you it is so much more than that. Don't be intimidated by it's size either, it's so fast paced and quite a quick read, helped by the fact that you will not be able to put it down. As you know my attention span is non existent so when I saw this book I was a tad apprehensive, however it kept my attention more than nearly any other book I've read.
Despite not being in a normal written format you still managed to connect to every single character and they all had such depth and developed beautifully. I'm not sure how, but Amie and Jay somehow even managed to make an AI go through character development and it felt so real and natural. Some of the story is a little disconnected because of how it's stylised, but honestly it didn't even really bother me and it doesn't take away from anything. There are a few scientific terms that went over my head a little, but again nothing extreme – I'm just the worst when it comes to that stuff.
Kady is an extremely likable character and whilst at the start of the book she seems like your typical "I don't care about any thing" YA dystopian character she grows so much and it's so beautiful to see. She is so strong and badass, whilst managing to stay human. Her relationship with Ezra is so great too because there's already an established relationship SO NO INSTALOVE OR LOVE TRIANGLES, thank you Amie and Jay! I don't normally tend to care for romances in books, but I loved Kady and Ezra so much because of how well their characters played off of each other. Also, I can't say too much without giving away spoilers and this is one book you should not be spoiled for, but the way Kady's relationship with AIDEN (the AI) develops throughout the book is so great, it (and AIDEN in general) will make you feel so many conflicting emotions.
Illuminae was dark, gritty and even scary at times, but also extremely humorous. I read most of it on a bus trip and I had to stop myself from laughing out loud or crying on more than one occasion. It didn't really go to plan though. I just fell in love with these characters and this world that was built. I felt so attached to everyone – even side characters. I was so fascinated by everything that was happening. I was on the edge of my seat the whole time because this book is a roller coaster from the very first page to the very last page and that's not an exaggeration. Everything that Kady was going through I felt like I was going through. I was cheering her on from the start and I experienced all her ups and downs.
The sci-fi elements, whilst common, were done in such a unique way that it felt like it was the first time I was reading about them. I loved being able to see all the medical reports, emails, chat logs and diary entries. I felt like it made this book seem so much more real.
I can not recommend this book enough to absolutely everyone. You definitely need to experience it for yourself because this book will take you on a journey. I am counting down the days until Gemina is released, I can not wait!!
MY RATING: ★★★★★