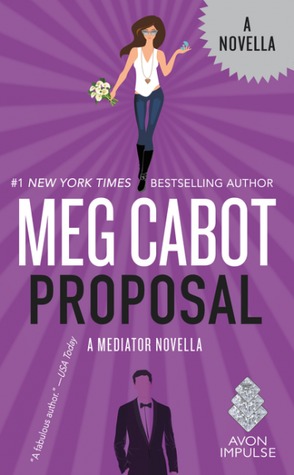 Genre: Young Adult, Romance, Paranormal
Date Published: January 19th 2016
Publisher: Avon Impulse
Pages: 144
Buy: Buy on Amazon
Follow Meg Cabot on Twitter

The last place Suze Simon expects to find herself during Valentine's Day is a cemetery. But that's what happens when you're a mediator – cursed with the "gift" of communicating with the dead.
That's how Suze has ended up at the graves of a pair of NCDPs – Non-Compliant Deceased Persons – whose drama didn't end with death. It's Suze's job to make sure they move on—for good.
But the NCDPs aren't the only ones with problems. The reason Suze is spending her Valentine's Day with the undead instead of her boyfriend, Jesse, is because he's having so much trouble adjusting to life after death . . . not surprising, considering the fact that he used to be an NCDP himself, and now his girlfriend busts his former kind for a living, while he tries to cure his kind of what used to ail him.
Can Suze use her mediating skills to propose a mutual resolution, and bring all these young lovers together – including Jesse and herself – especially on the night Saint Valentine declared sacred to romance?
Or will she end up alone—and possibly undead—herself?
Two reviews in a day after none for a year… What is happening? I guess I've just been in a mood to read lately and I'm rolling with it.
** There are some minor sexual situations in this book that may lean more towards New Adult, but honestly it was only like 2-3 pages and I gaurantee it's got nothing on the fan fic teens are reading anyway. So I'm keeping the genre as Young Adult ** 
Proposal is a novella set quite a few years after the final Mediator book: Twilight. For those that are unfamiliar with the series, long story short: Suze can see ghosts and helps them to pass over. Jesse was a ghost who was occupying her bedroom (it's a lot more innocent than it sounds), they fall in love and after a series of adventures Suze manages to return Jesse's soul to his body and voila he is alive again. I know. I know. It sounds all kinds of cliche, but really it's not and I honestly do not care.
Suze and Jesse are now both adults and are studying at college. Suze is at a community college, studying to be a psychologist, where she stays with a bunch of diverse girls who I managed to fall in love with despite them only making an appearance for like three pages. I'm really hoping they all show up in Remembrance.
I am currently making a bunch of incoherent squealing noises. I can't believe I forgot how much I loved this series and these characters. It has been years since I read the Mediator series, but reading this felt like it had only been days.
This may have only been a novella, but it made me laugh and cry and feel a million different emotions. I'm not a romantic person, but I am in love with Suze's and Jesse's love. There was a great balance of romance and paranormal elements. I don't feel like the romance overpowered what Suze does best – kicking butt. I also love and appreciate Suze even more, now that I'm older, than I did when I first read these books. She is so badass. I can't wait to read Remembrance. I'm so happy Meg decided to write more for this series!
If you haven't read the series then you need to change that right now. Go! Go! Go! And if you're a fan then definitely check this out because it is honestly one of the funnest reads I've had in a really long time.
P.S. Paul is still gross. Ew.
MY RATING: ★★★★★